Aries Kitchen Favourite Soup Recipes
Soup Recipes.
Looking for soup recipes? This soup is amazingly delicious and most important is that my family loved it, another easy winter warmer ! With the meat that melts in your mouth and a fresh aroma of celery I find this soup very comforting. Untuk versi bahasa kunjungi Resep Sup Daging Sapi Favourite Dapur Arie.
Just a little tip, you can add  beef or pork meatballs if you would like it more filing.  I like both just depends on on what main I'm going to serve. If the main menu is heavy, I prefer this way but if the main food is light I prefer to add meatballs to it. And if you like a thicker soup you can add chopped potatoes or more pearl barley. So simple and yet delicious.
Because it can take a while for the meat to tenderise, you can start making this soup early. So while you cook other things, you can just leave the soup simmering until the meat is tender. And then add other ingredients. That's my trick

Click Meatballs Recipe if you want to know how I make my yummy meatballs.

Arie's Kitchen Favourite Soup Recipe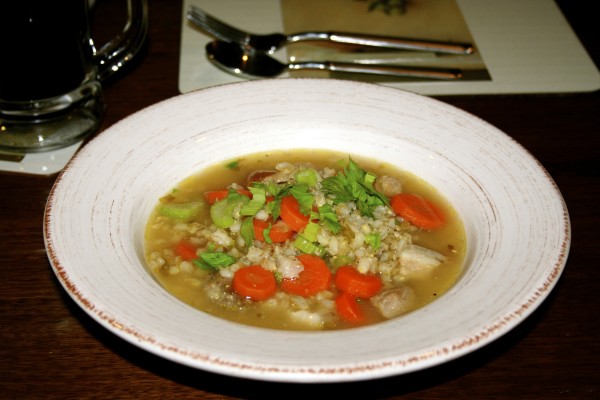 Ingredients:
1kg of pork belly strips (you can replace with beef ribs), cut into pieces. For healthier option, clean the skin and fat part.
5 cloves garlic, crushed
5 small size carrot (2 big one), peeled and chopped
1 cup of pearl barley
3 stalks of celery, chopped
1 cup of chopped green celery leaves for garnish
1 full tbsp fried shallot for garnish
Salt and pepper for taste
Olive oil or any other cooking oil
3 liters of hot water
Cooking Instructions:
Heat the oil in a deep soup pot, brown the meat.
Add the hot water.
Add the garlic. Put the lid on. Turn the heat to medium, continue to cook until the meat is tender.
Add carrot, pearl barley, salt and pepper. Put the lid on. Cook until barley tender, stir occasionally.
Just few minutes before serving, add fried shallot and both chopped celery stalks and leaves.
Serve the soup while it's hot.