Arie's Kitchen Stuffed Zucchini Recipe

Arie's Kitchen Stuffed Zucchini Recipe.
Untuk versi Bahasa kunjungi Resep Zukini Panggang isi Jamur ala Dapur Arie.
Some may think that zucchini is boring, but not when you cook it this way I don't think

This is what I have for lunch or dinner when I don't feel like eating heavy food. I eat this as a nibble as well while I do work on my computer, it's just super delicious !
I use zucchini for other recipe as well, feel free check them out:
–Stuffed Mushroom.
–Vegetarian Pasta.
–Penne Pasta with Zucchini and Anchovies.
Ingredients:
1 medium size zucchini (roughly 275 gr)
1 medium size king oyster mushroom (roughly 80gr), chopped
2 cloves garlic, minced
1 small spring of rosemary
4 tbs tasty or cheddar cheese
Salt and pepper for taste
2 tbs cooking oil
Method:
-Heat the oven 160 degrees Celsius forced fan or 180 degrees Celsius normal.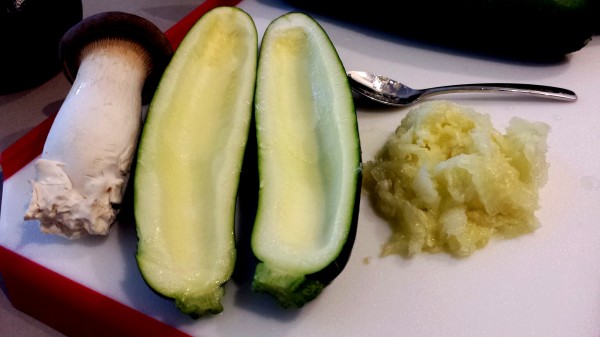 -In a mean time, cut the zucchini in half, scoup out some of the zucchini meat out, set aside.
-Heat up the oil, sauté the garlic until beautifully fragrant.
-Add  in chopped mushroom and rosemary, stir until mushroom soft.
-Season with salt and pepper. Stir well, turn off the heat.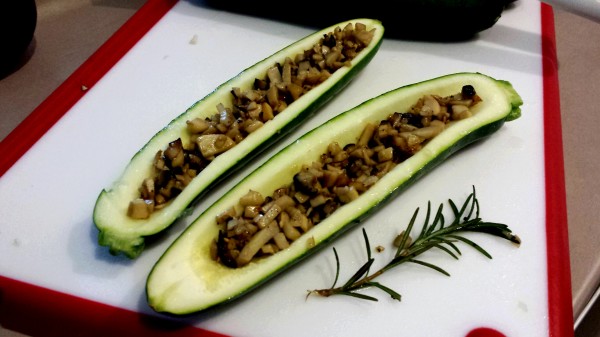 -Using small spoon, fill the zucchini with sautéed mushroom.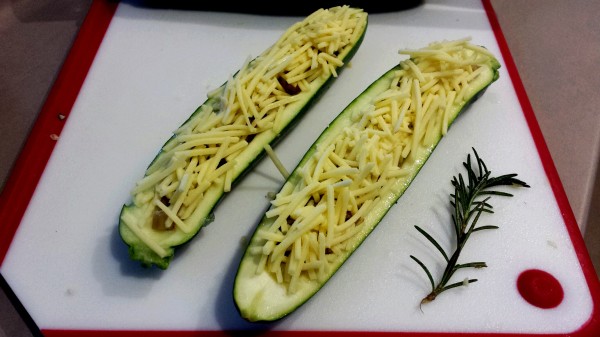 -Sprinkle cheese on top,  and then moved to baking dish, cover with aluminium foil
-Bake for 15 minute, open the aluminium foil.
-Bake for further 5 minutes to get the golden colour on cheese.
-Serve while it's hot, sprinkle with cracked pepper.
*make 2 pieces*