Baby Back Ribs with BBQ Sauce Recipe
Baby Back Ribs with BBQ Sauce Recipe.
Who doesn't like yummy baby back ribs especially cooked with homemade smokey BBQ sauce? This baby back ribs is definitely to die for. Not quiet Tony Romas but close enough lol….! Curious with how they make the ribs very juicy, I tried this method, cover the ribs with aluminium foil for 30 minutes during the early cooking stage and it does work. I only wish the weather is friendly today so I can cook the ribs in a bbq as I love the rich smokey flavours. Oh well, it doesn't matter it still taste as good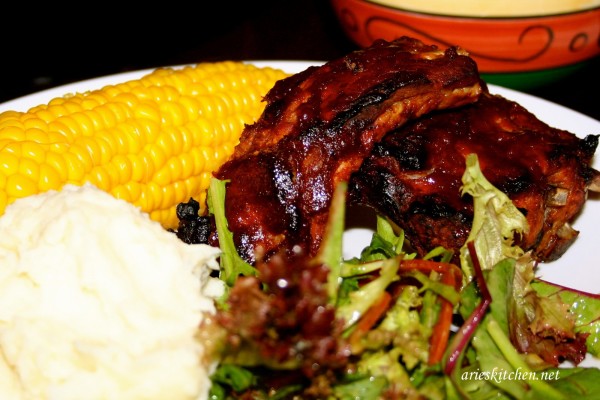 Baby Back Ribs with BBQ Sauce Recipe

Ingredients:
1,5 kg pork baby back ribs
Mash Potatoes enough for 4 to serve
Green salad enough for 4 to serve
4 steamed/boiled sweet corn to serve
BBQ Sauce:
250ml tomato ketchup
2 tsp tabasco sauce
3 garlic clove, crushed
50 ml apple cider vinegar
1 full tbs sugar
1 tsp smoked paprika powder
1 flat tsp ground all spice
100 ml water
Mix all above ingredients in a pot, shimmer for about 5 minutes. Set aside. Your BBQ sauce is ready.
Cooking Instructions:
Cut the baby back ribs into 8 pieces in total.
Place half of the BBQ sauce into big zipper bag, add ribs, close/zip properly.
Mix the sauce and ribs together, marinate in the fridge for about 1 hour, best over night.
Pre-heat the oven 180 degrees celcius fan force.
Place the ribs in a baking tray with rack, add little bit of water in a tray, cover with aluminium foil.
Put in the oven, cook for about 30 minutes.
Take out from the oven, take off the aluminium foil, brush with BBQ sauce.
Put the tray back to the oven, cook until the ribs is golden brown/ribs cooked, roughly 20-30 minutes (remember to brush the ribs with remaining sauce two or three times during the last 30 minutes cook up).
Serve your ribs with mashies, steam sweet corn and salad.
Notes
Best to cook this ribs in a barbecue to get more smokey flavour.
Add more tabasco is you like spicier.