Super Easy BBQ Short Ribs Recipe by Arie's Kitchen.
Yay!!! Best finger licking food ever! Winter, spring, summer or autumn it doesn't matter. We love this yummy sticky finger food! During winter time, we normally cook this dish in the oven as its too cold to go outside and the taste is just as delicious.
The tabasco sauce and apple cider vinegar are definitely gives a kick to this recipe. Add sliced fresh chilli if you like to be more spicy.
I remember my friend dropped by when I made these BBQ Short Beef Ribs and she said she can smell it from the outside of the house. Made her hungry and she can't wait to get in the house of course

We ate the ribs quietly in the backyard and nothing was left on the plate between the two of us!
Let's start cooking!

BBQ Short Ribs Recipe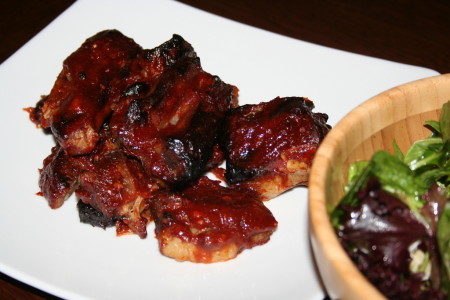 Ingredients:
Sauce Ingredients:
1 tsp chilli powder
1 teaspoon smoked paprika
250ml tomato sauce
2 tsp tabasco sauce
1 tablespoon butter or margarine
3 cloves garlic, crushed
50 ml of apple cider vinegar
1 tablespoon brown sugar
Mix all the above ingredients in a pot, shimmer for about 5 minutes. Set aside. BBQ sauce is ready.
Cooking Instructions:
Add 1.5 liters of water in a pan. Boil the ribs over medium heat. Cover the pan until beef is tender and looks like almost detached from the bone.
Remove from the heat and discard the water.
Leave until the beef cools (can be put in the refrigerator if necessary).
Stir well the beef ribs with the sauce.
Cook the ribs on the BBQ until the sauce caramelised and meat little bit burn on the end part.
Notes
You can cook in the oven too :)
Preheat oven to 200 ° C fan 250 ° C forces or normal.
Bake in the oven while spreads with remaining sauce occasionally, until the meat is browned and the sauce caramelised.
Serve along with fresh salad or steamed vegetables while still hot.
If you have any question about this recipe or got better recipe than this, please leave your comment below

Thanks !