Beef Burger Recipe with Beetroot and Cheese

Beef Burger with Beetroot and Cheese Recipe.
Quick fix when I'm craving for beef burger

Try this beef burger recipe and see what your kids think

Untuk versi bahasa kunjungi Resep Cara Membuat Burger Beetroot dan Cheese.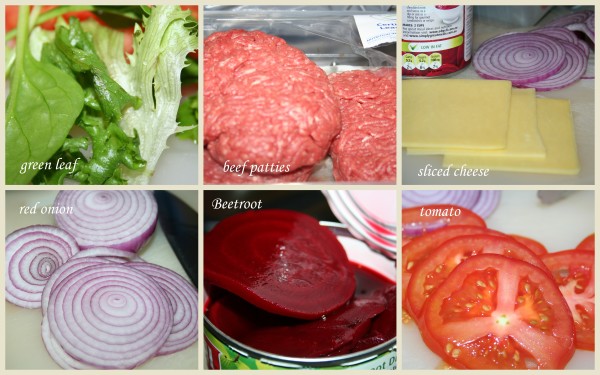 Beef Burger with Beetroot and Cheese Recipe

Ingredients:
500gr lean organic beef mince
4 burger bun
¼ medium red onion
Sliced beetroot (tin)
4 sliced of tasty cheddar cheese (or you can put double)
2 tomatoes, thinly sliced
1 tbs olive oil
A buch of green salad leaf
Sweet chilli sauce, bbq sauce mayonnaise.
Cooking Instructions:
Make 4 beef patties out of 500gr mince (roughly 2cm thick)
Heat oil in a pan, cook the beef patties in a low-medium heat.
In a mean time, spread margarine only inside part of all buns, using sandwich toaster, brown one side only (where you spread the margarine). Set aside.
Check the patties, flip over if one side already brown. Cook to your liking, turn the heat off.
Place the bun on a plate, add green salad, tomatoes, beetroot, red onion, place the patties on top, follow with cheese.
Add your favourite sauce on top, place the top part of the burger bun.