Blue Ox Steakhouse Kalamunda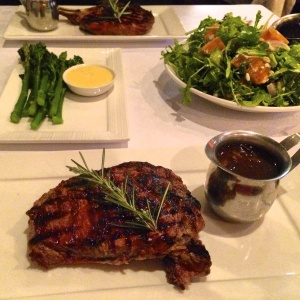 Hidden gem on the hill, Blue Ox Steakhouse Kalamunda.
We have been to this place a few times and never once disappointed with either food or service. All food we ordered cooked to perfection. The presentation is always beautiful. The place is cozy and friendly too, I like it a lot!
30 minutes drive from our place is never stopping us from enjoying the delicious meals at Blue Ox Steakhouse in Kalamunda. Beside, it's kind of romantic as on the way home we can see beautiful lights of Perth city. Looks like millions stars on earth….too beautiful! Untuk versi bahasa kunjungi Makan Malam di Blue Ox Steakhouse Kalamunda.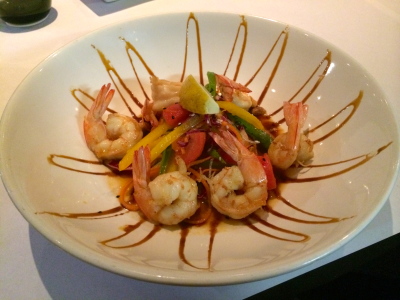 Prawn Salad.
This dish is absolutely divine ! Prawn, capsicum, carrot, tomatoes, spring onion with touch of asian salad dressing is a great mix. The vegetables are crunchy and I can't get enough of the dressing. My plate is always clean by the time I finish this dish. Perfect entrée for me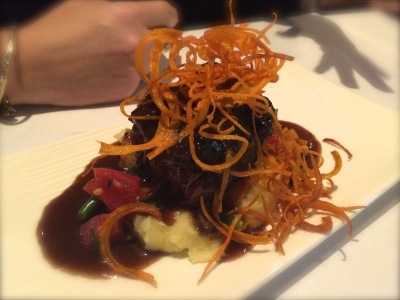 Beef Cheeks – entree size.
If you just want to have something small, this beef cheeks entree size is just perfect f0r you. Melt in the mouth, tasty, served with mashed potatoes and little bit of veggies.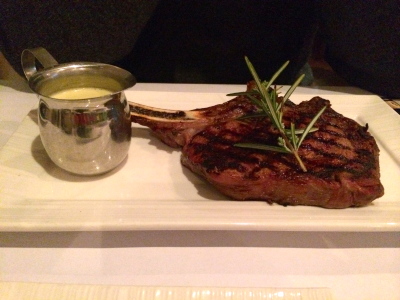 500 gr Rib Eye with blue cheese sauce.
Oh la la……! Make sure you have an empty stomach. I have never ordered this one but my husband, Damien did. He enjoyed it so much and I can see on his face that he's a happy man with his steak! The sauce is just tasty, creamy and had a special taste to it. I can't help but stealing some of his sauce 😉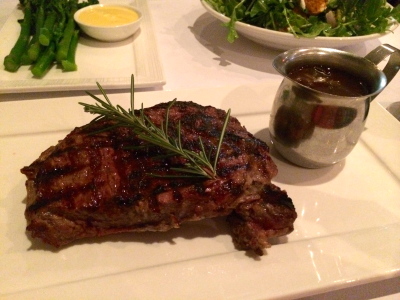 Scotch Fillet.
My favourite ! Cooked medium well, just how I wanted it. I chose mushroom sauce to accompany my steak. Hmm…hm… I know I can be boring, always order the same sauce every time I order steak. But the mushroom sauce here is just as divine as the blue cheese sauce. You will find chunks of mushroom, seems like they are fresh made. Super delicious!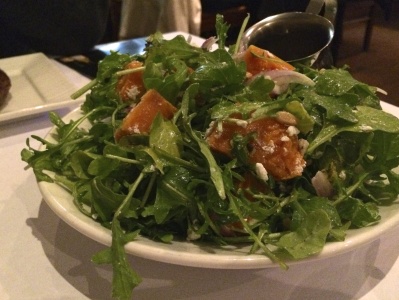 Rocket, parmesan, pumkin salad.
My favourite too! Crunchy, fresh, tasty dressing, what more do you want? They are so generous with the salad.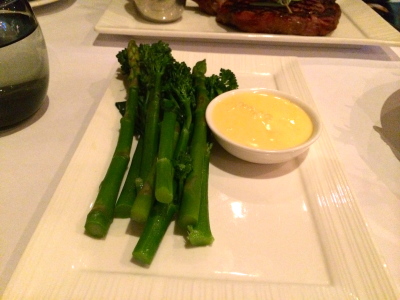 Steamed Asparagus Served With Hollandaise Sauce.
Never get enough of this side dish. Well presented, clean, and yummy. The asparagus is still crunchy and the colour is so inviting!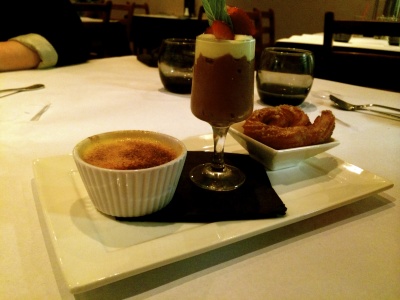 Chocolate Mousse, Creme Brûlée, Churro.
Looking pretty, this desert is created for you who can't decide what to have.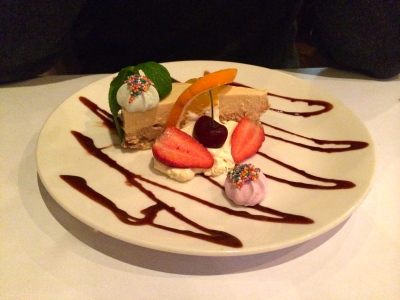 Cheese Cake.
Not too big, not too small, perfect size. Tastes good!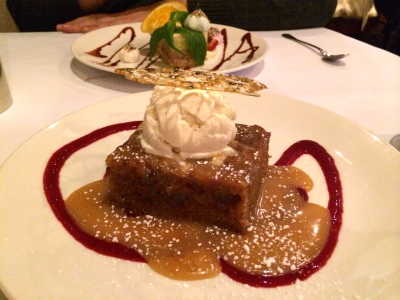 Sticky Date Pudding.
I will say that sticky date pudding is kind of their signature desert. Always consistent with the taste and well presented as well. The size is little bit too big for me but I got my husband to finish them off so no worries

I believe this restaurant is one of the best steak restaurant in Perth for sure. You can tell that the staff must love what they do as the service is always magnificent. You will find happy face from the staff all night, it's just add to an amazing dining experience.
Blue Ox Steakhouse is definitely on our "restaurant to visit often" list