Chicken Sweet Basil Recipe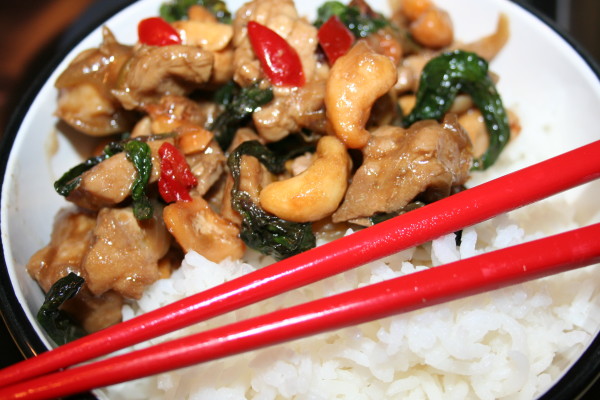 Chicken Sweet Basil Recipe.
Untuk versi bahasa kunjungi Resep Cara Membuat Ayam Kemangi dan Kacang Mede.

Chicken Sweet Basil Recipe

Ingredients:
1 kg chicken thigh fillet skin off (rub the chicken with lemon juice, cut into dice approximately 1 cm)
5 big french onion/shallot, slice thinly
2x bunch of sweet basil, just use the leaf
2 cups of unsalted cashew nut
50 ml light soy sauce
1 tbs fish sauce
2 tbs sesame oil
5 red chilli (optional)
½ lemon
2 tbs olive oil
Rice to serve
Cooking Instructions:
Heat the oil, brown the chicken. (tip; turn the chicken over when it turn to brown color)
Add chili and french onion, stir until all mixed and french onion become little bit soft.
Add sesame oil, fish sauce and light soy sauce in.
Once everything mixed, put the basil leaf in and mix gently. Until the color looks like in the picture.
Add the cashew nut in. Mix together.
Serve in a bowl with rice.