Chicken Vegetables Recipe
Chicken Vegetables Recipe (Indonesian Type of Curry).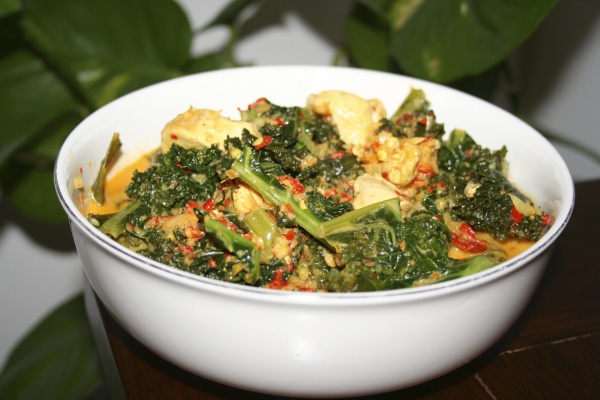 The original recipe of this gulai or Indonesian type of curry uses cassava leaves. But because it's really hard to find the leaf here in Perth, I've replaced it with kale and the taste is even more delicious. Just to be clear, Indonesian curries do not use curry leaves or curry powder at all. Funny right? I suppose we should not call it curry then but it's too late as lots of people have just misunderstood and many yellow colour coconut dishes are called curry. Untuk versi bahasa kunjungi Resep Gulai Ayam Daun Singkong.
Anyway, you will never guess that we use turmeric leaves as one of the ingredients for our delicious "gulai" or Indonesian type of curry. That's what makes Indonesian curry taste different. I will say lighter and the aroma isn't as strong as the Indian curry. Love it. Oh, and as per usual, you can adjust the amount of chilli you put in or even skip this spice.
Cassava leaves are used a lot in Indonesian cuisine. In Java they use for a soup with a little bit of coconut milk added, and also simply just steam the leaves and eat with sambal as a condiment. In Bali they cook cassava leaves with chicken, called Ayam Betutu and in Sumatra region they steam it and serve as a condiment for Nasi Padang together with Sambal Lado (green chilli sambal).
Chicken Vegetables Recipe

Ingredients:
500gr chicken breast, cut into pieces
1 bunch of cassava leaves ( you can replace with kale ) approximately 350gr, cut into pieces
200 ml thick coconut milk
1 turmeric leaf (optional)
Paste Ingredients:
5 large red big chillies
5 Asian shallots (1 big French Onion)
3 cloves of garlic
1 cm fresh turmeric
1 cm fresh galangal
1 cm fresh ginger
Salt to taste
Cooking Instructions:
Saute the paste until beautifully fragrant.
Add slices of chicken, cook until the meat is half cooked.
Add the coconut milk, stir well, turn the heat to low, continue cooking until boiling .
Add the cassava leaves or kale, cook further for about 3 minutes or until the leaves are cooked but still crunchy. Turn off the heat.