Easy Fish Tempura Recipe with Garden Salad.
Making fish tempura turned out not as complicated or as hard as I had imagined. Turns out that the secret is in the breadcrumbs. Untuk versi bahasa silahkan kunjungi Resep Ikan Goreng Tepung Renyah (Resep Tempura Ikan).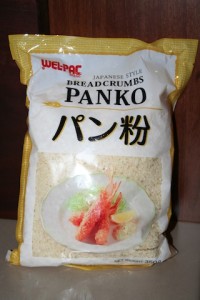 Above is Panko breadcrumbs that I used for this recipe. These breadcrumbs can be found in Japanese food stores or general Asian food stores. It is an irony that Panko breadcrumbs are made in China rather than Japan as it meant to be " Japanese style breadcrumbs ". Anyhow, if you can't find the same brand, you can replace it with another Japanese style breadcrumbs. These breadcrumbs are also suitable for vegetable tempura, shrimp, scallops and other tempura dishes. You can also enjoy this fish tempura with tartare sauce, chilli sauce or tempura sauce. Just be creative 😉
If you look at the picture, you might think that this fish tempura looks like kind of fish you get from fish and chips shop. Well, not quite as we are talking about super crispy on the outside part of the fish here.

Easy Fish Tempura Recipe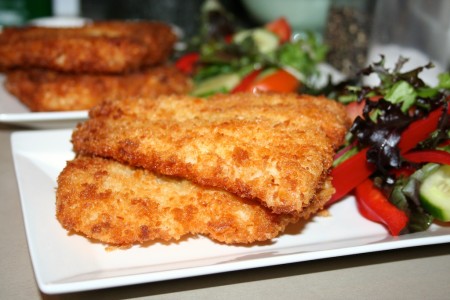 Serves:
2 generous serving
Ingredients:
½ kg of fish fillet (I use basa fish)
1 egg
A pinch of salt
3 full tbs of flour
175 gr Panko Breadcrumbs
2 tbs water
Cooking oil to fry
Garden salad for serving
Cooking Instructions:
Clean the fish fillets, and then cut to taste.
Beat eggs in a bowl together with a pinch of salt and two tablespoons of water. Set aside.
Place the flour over the flat plate. Make sure you spread the flour evenly.
Place Panko breadcrumbs on a flat plate. Make sure you spread the flour evenly.
Heat oil in a skillet or non sticky pan.
Take one piece of fish, put it on flour, make sure the fish covered in flour. Pat gently to make the flour stick into the fish.
Dip the fish covered in flour into the beaten egg until all covered.
Place fish on top of Panko breadcrumbs, rotate onto the other side slowly until the fish is evenly covered in breadcrumbs. Pat gently.
Fry the fish until cooked and the colour turns to golden brown. Repeat the process until all fish are cooked.
Serve fish tempura with garden salad or fries.

Please leave your comments bellow if you like or have any question about easy fish tempura recipe above. Thanks !