Very Easy Banana Bread Recipe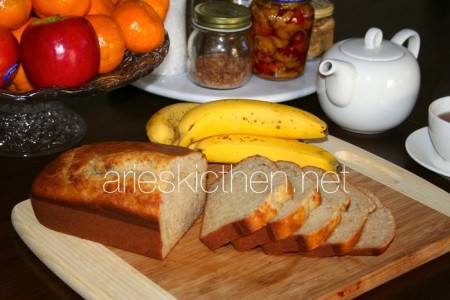 2 - 3 overripe medium bananas, mashed
2 eggs, lightly whisked
1¾ cups self-raising flour
¼ cup plain flour
1 teaspoon ground cinnamon
⅔ cup, firmly packed brown sugar (you can replace with caster sugar)
½ cup of fresh milk
100 gr butter, melted, cooled
1 tsp spread, to grease
Loaf pan size 11 x 21 cm
Cooking wire rack
Preheat the oven to 180°C.
Brush the loaf pan with dairy spread to lightly grease.
Combined self raising flour, plain flour and cinnamon into a large bowl.
Stir in the sugar and make a hole in the centre.
Place the lightly whisked eggs, milk, melted butter and mashed banana in a medium bowl, and stir until well combined.
Add the banana mixture to the flour mixture and stir until well mixed.
Spoon the mixture into the prepared loaf pan.
Bake in preheated oven for 45-50 minutes or until a skewer inserted into the centre comes out clean.
Remove banana bread from oven and set aside in the pan for 5 minutes.
Turn onto a wire rack to cool completely.
Cut into slices to serve.
Recipe by
Arie's Kitchen
at http://arieskitchen.net/very-easy-banana-bread-recipe/