Fresh Sweet Basil Chicken Recipe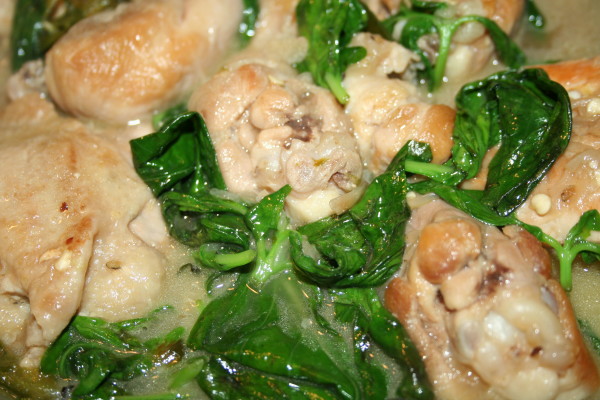 Fresh Sweet Basil Chicken Recipe .
Untuk versi bahasa kunjungi Resep Ayam Kemangi ala Bu Icha.

Fresh Sweet Basil Chicken Recipe

Ingredients:
750gr chicken
2 tbs olive/vegetable oil
10-20 sweet basil leaf
2 big French onion, slice
5 garlic clove, slice
½ tsp coriander powder
½ tsp pepper
½ tsp turmeric
3 big green chilli, slice
a thumb of galangal, crushed
a thumb of ginger, crushed
salt
1 tsp brown sugar
2½ cups of water
Rice to serve
Cooking Instructions:
Brown the chicken, put aside.
Sauté French onion, garlic, coriander, turmeric, pepper, galangal and ginger until soft.
Add chilli.
Add chicken.
Add water, sugar and salt, put the lid on, stir occasionally until chicken cooked.
Add the sweet basil, stir and ready to serve with rice.