Fried Rice Recipe with Salmon
Fried Rice Recipe with Salmon.
Fried rice? Of course we love it! With salmon….now we are talking. How many of you have ever tried this dish? I can tell you that this fried rice with salmon is one of my comfort foods. (And a way to save my leftover rice from being thrown away). Gosh, why do I have so many comfort foods? Untuk versi bahasa kunjungi Resep Nasi Goreng Ikan Salmon.
I often mix my white rice with lentils and brown rice like I have this time. I mix them equally to get more benefit as lentils and brown rice are healthier option than white rice (so they say). But if you only have white rice in your pantry or left over steamed white rice, that's good too. This is how much I don't like to waste. When we have left over fried rice (only) from Chinese take away I will still add salmon to make it a full meal again.
We always make sure that we have enough stock of salmon in our house, it has to be in the freezer of course. If I can't decide what's for dinner, salmon is the answer. If we have friends coming over and they stay for dinner, salmon is the answer. It's just very easy to cook and quick too. Convenient!
It's amazing how much I love sea fish now considering I didn't grow up with it especially salmon. My first experience eating salmon probably when I was 22 years old. After I'm graduate from my uni.
Anyhoo, I hope you like the recipe and if you make it, please let me know what you think

Fried Rice Recipe with Salmon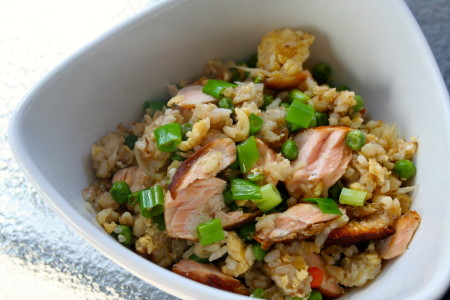 Ingredients:
1 piece of fresh salmon steaks (about 220gr)
2 cups of cold or room temperature cooked rice (as I mentioned, this time I used rice mixed with lentils because healthier). Make sure that the rice is not stick together.
2 eggs, beaten
1 cup frozen peas/baby green peas (I use frozen one)
2 cloves garlic, thinly sliced
1 French onion, thinly sliced (you can replace with half of medium onion, mince)
3 big red chilli (if you like spicy), seeded and then thinly sliced
½ cup chopped spring onion
1 tbsp soy sauce
3 tablespoons cooking oil
Cooking Instructions:
Pan fry the salmon until well cooked, set aside.
Boil the baby green peas with a little salt until cooked, drain.
Using a fork or hands, split salmon meat into small pieces.
Heat 3 tablespoon cooking oil, sauté the onion, garlic and chilli until fragrant and soft.
Add rice, stir briefly until hot rice. Stir well.
Add peas, stir well.
Make like a hole in the middle of the frying pan, add the egg. Using a spatula to stir the eggs until egg is almost cooked. And then stir well with rice.
Add soy sauce, stir well.
Add the salmon pieces, stir well.
Finally add the chopped spring onion and stir.
Serve while its hot.