Good Fortune Roast Duck House – Vic Park
Saturday Brunch and Explore Victoria Park – Roast Duck.
Saturday is time to explore and eat! This time we walked along Albany Highway, stopped by at our favourite book store Crow and also my favourite gourmet shop Nosh. So many restaurants to explore in Vic Park, but sometimes we're drawn by the restaurants we already know just because they got the good stuff. Like Good Fortune Roast Duck House for example. We've been here so many times now and today we still want to go there. Nothing to do with my addiction to a good food problem….nothing to do with that at all 😉
Untuk versi Bahasa kunjugi Bebek Panggang Enak di Good Fortune Roast Duck House.
We arrived at the restaurant super early. We are the first customers as you can see the restaurant is still empty. But this way I can take a good look at their furniture (they shipped all the furniture from mainland China). The wooden tables are made of one big slab of wood. Amazing. I like the interior but what I like the most is its still empty as it can be super noisy when the place is full.
Beside the one in Vic Park, they've got another restaurant in Northbridge. The interior is similar but I like the one in Vic Park as it's close to home. If you around Northbridge and want to pay a visit, here's the address 344 William St. Northbridge, WA 6003. Phone (08) 9228 3293.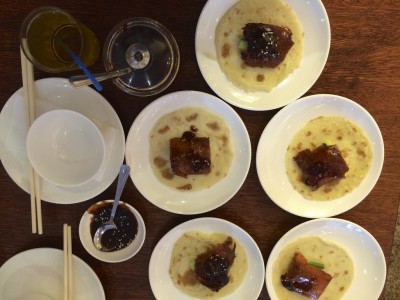 Peking Duck.
Sliced duck meat with crispy skin served on thin savoury pancake with spring onion and sliced cucumber hidden underneath the duck meat. Remember to add hoisin sauce to it, oh my…..it's another level of heaven! This one is a must order as entree. There are 5 pieces per serve, definitely enough for the two of you. And whoever is the faster eater, they got the third piece or you can play Rock Paper Scissors!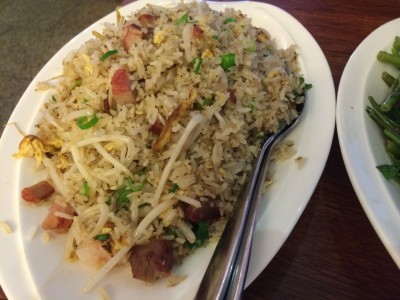 Combination fried rice.
The fried rice tasted little bit different. There is slight burnt taste to it and some Chinese restaurant do that deliberately. Unfortunately I'm not a big fan of the burnt taste. To me Harbour Seafood Restaurant in Belmont made better fried rice than this restaurant.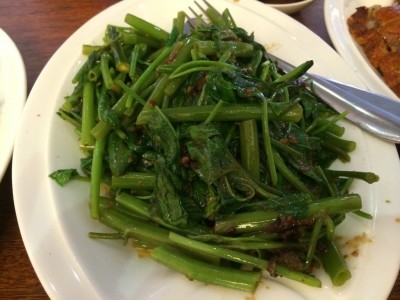 Kangkung Sambal (water spinach cooked in sambal).
This dish is a must order every time we go to Chinese restaurant. Feels like something is missing if they don't have them. Good Fortune made this dish just perfect, spicy and crunchy the way it should be.
In Asia, water spinach is one of cheap and easy to get vegetables but here in Australia, this dark green leaf veggies it's a bit of a delicacy. Costs about $ 10 per bunch….ouch, even organic kale won't cost that much. Couple of years ago Bunnings used to sell the plant for $10 per pot. I grew a couple of them and it lasted me for a year until winter killed them. After that I never seen Bunnings stock the water spinach plant anymore. It was so good as I can harvest them once a week and enough to make a dish for two.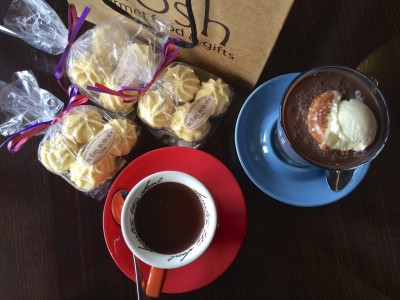 Roast Combination (Roast Duck & Roast Pork & Roast Chicken).
By the time all the food came, we realised that we ordered way too much. Who cares right ? we can have doggy bag and we did at the end. Our eyes are bigger than our stomach as usual lol….
Among the three different roast, roast duck is my favourite. It's so tasty and fresh. Not to mention that the sauce is delicious too.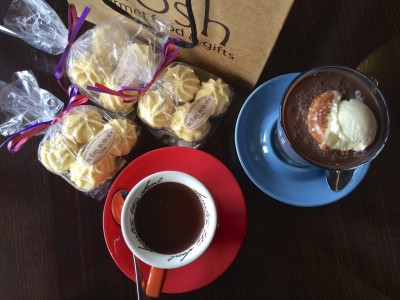 Melting Moment from Nosh and Chocolate drink at San Churro is a great way to end the Saturday adventure 😉
884 Albany Highway, East Victoria Park WA 6101, Australia
+61 8 9472 8236