Japanese Eggplant Teriyaki Sauce Recipe

Japanese Eggplant Teriyaki Sauce Recipe.
Our family loves this teriyaki sauce recipe long before we went to Japan. This sauce goes well with nearly every type of meat and veggies. So if you are not a big fan of eggplant, do not rush to leave this page as teriyaki sauce can be used to make other dishes. Such as chicken teriyaki, beef teriyaki, fish teriyaki, and many more. Untuk versi bahasa kunjungi Resep Cara Membuat Terong Saus Teriyaki.
If the eggplant is a large size, like the one I usef which weighs 600gr for one piece, simply slice into a round shape. But if you only have the small one, cut in half lengthwise.
Japanese Eggplant Teriyaki Sauce Recipe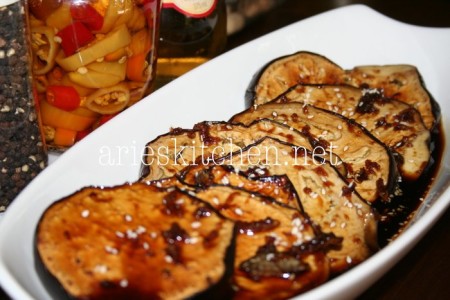 Ingredients:
1 purple eggplant, roughly 600 grams, wash and then slice in round
Teriyaki sauce ingredients:
2 tbs sweet soy sauce
¼ cup soy sauce
2 tbs honey
3 tbs apple cider vinegar
2 tsp sesame oil
120 grams of brown sugar
2 cm ginger, finely chopped
3 cloves garlic, finely chopped
1 tsp sesame seeds
¼ cup water
Cooking Instructions:
Turn on the oven 180 degrees Celsius fan forced, or 200 degrees Celsius normal setting.
Make the teriyaki sauce by mixing together all sauce ingredient in a pot, (water, sweet soy sauce, soy sauce, honey, apple cider vinegar, sesame oil, brown sugar, ginger, garlic and sesame seeds). Bring to boil in a low heat while stirring occasionally. Turn off the heat.
Pour teriyaki sauce on top of the sliced eggplant, mix well. Let it stand for about 15 minutes.
Grill slices of eggplant that has been spread with teriyaki sauce until cooked yellowish approximately 15 to 25 minutes.
Move grilled eggplant into a serving bowl. Sprinkle with remaining sauce.
Can be enjoyed with white rice or enjoyed simply as an entree or appetizer.
Thank you for visiting my blog. Please leave a comment below if you like or have a question about this Japanese Eggplant Teriyaki Recipe. Arigato !