Kimchi Salad Recipe Idea.
I've been coking yesterday and feel like something fresh and easy for dinner tonight, and guess what I found ??? A package of fresh Kimchi locally made in Perth. I know I could do something amazing with this Kimchi. Then I remember when we had dinner  at Niniku Jip a while ago we had Kimchi salad for entree and it was divine.
I know I will be still hungry only eating kimchi and salad so I add egg. And voila……dinner is ready. Crunchy and refreshing, suitable for Monday night.
What you need is just a package of kimchi, 150 gr mix green salad, 4x egg, lightly whisked the egg, add a pinch of salt and then cook like an omelette, cut into pieces, then mix kimchi, green salad and egg together.
Or if you don't like egg, you can skip it as simple as that \0/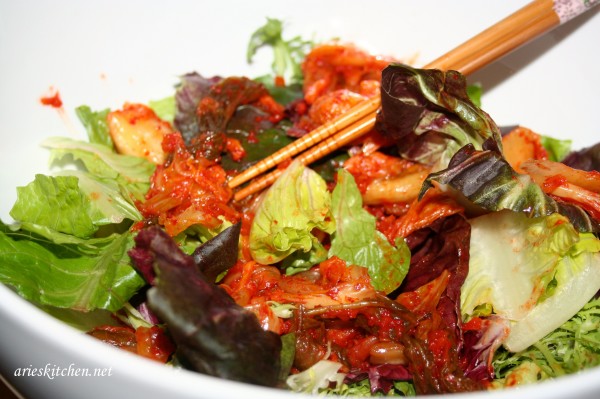 Kimchi Salad (without egg).