Lamb Casserole Asian Style Recipe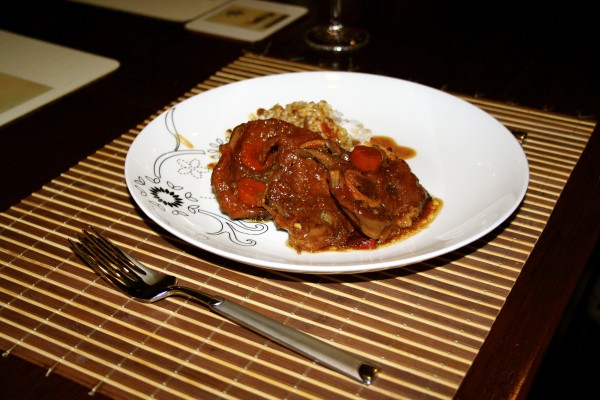 Feel like something spicy for dinner ? This is it. This lamb casserole Asian style is very easy to follow and yummy. The taste is similar to my sweet lamb recipe. The only difference is this one is cooked in the oven.  If you have a slow cooker, you can cook this dish in the slow cooker as well for 6-8 hours medium heat. And to help thicken the soup, you can add in a few potatoes.
Untuk versi bahasa kunjungi Resep Daging Kambing Casserole Asian Style.

Lamb Casserole Asian Style Recipe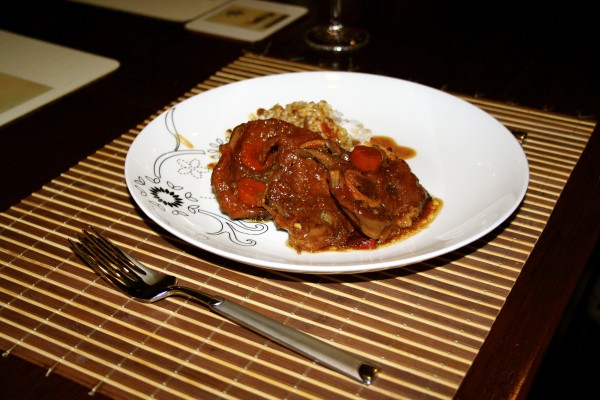 Ingredients:
11/2 kg of lamb (I use sliced lamb leg chops)
1 stalk of fresh lemon grass, beaten and bruised (2 full tsp of minced lemon grass)
2 medium carrot, peeled and chopped
2 stalks of celery, chopped
2 stalks spring onions, sliced
2 tbsp flour
Salt and Pepper
Peanut oil
Steam rice for serving
Sauce:
4 cm piece of ginger, roughly chopped (1 full tbsp minced ginger)
4 cloves of garlic, minced
1 big red chilli, roughly chopped
1 full tsp coriander ground / powder
½ cup of kecap manis (Indonesian sweet soy sauce)
1 tsp sesame oil
4 tbsp of rice wine vinegar
1 tbsp of brown sugar
2 cups of chicken stock
Cooking Instructions:
Preheat the oven to 180° Celsius fan forced or 200° Celsius normal.
In a plastic zip bag, combine flour, a pinch of salt and pepper.
Add the lamb, and shake until the lamb is coated in seasoned flour. Set aside.
Heat the peanut oil and brown the lamb on both sides. Set aside.
While you're browning the lamb, you can also start making the sauce.
Combine the sauce ingredients in a bowl.
Place the half cooked lamb in a deep casserole dish.
Add carrot, celery, spring onion and lemon grass on top.
Pour the sauce over the mix.
Cook in the oven for 2 hours or until the meat is tender.
Serve with steamed rice or steamed vegetables.