Lamb Soup Jakarta Style.
When I lived in Jakarta, precisely in the area of ​​Roxy, west Jakarta, almost every night my friends and I were eating out. There are so many choices, where the taste is pretty good and cheap too. Understandably, the college student wants food that is cheap, lots and tasty. Untuk versi bahasa kunjungi Resep Sop Kaki Kambing Roxy.

One of our favorite places to eat is Sop Kaki Kambing & Soto Betawi Dudung Roxy (Goat soup and Soto/soup Dudung) in Biak Street. Not far from my boarding house. The soup is to die for! Even though I now live in Australia, the goat soup flavour is still in my heart … LOL !!! Anyhow, this lamb soup recipe does not use leg of lamb or goat, but it tastes as good.

Speaking of Goat soup and Soto/soup Dudung, this eating place has been around since the 70s. And now has more than ten branches. Being a soup that uses milk as one of the broth ingredients make this soup have a special savory taste. So if you are visiting Jakarta, make time to stop by at one of the stalls Sop Kaki Kambing & Soto Betawi Dudung. 

Lamb Soup Jakarta Style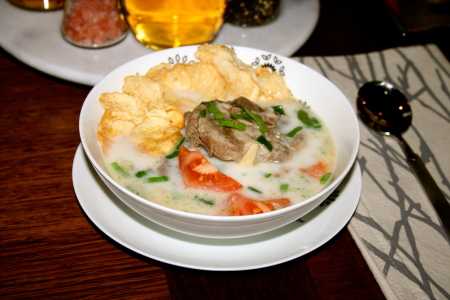 Ingredients:
1kg goat meat (I use 10 pieces of lamb neck)
2 bay leaves
2 cm ginger, crushed
1 cinnamon stick (about 5cm )
5 cloves
⅓ tsp nutmeg powder
4 liters of water
2 stalks of celery, cut into 2 pieces
2 spring onion , cut into 1 cm
400 ml fresh milk
Salt to taste
2 tbs Ghee (you can replace with butter or simply skip this ingredient)
2 tbs cooking oil
White rice to serve
Paste:
8 Asian small shallots (3 French onion)
6 cloves of garlic
1 tsp pepper
Condiment
2 large sized tomatoes , chop roughly
½ cup chopped celery leaves
2 lime, wash and slice
Fried shallots
Chilli sambal
Cooking Instructions:
Prepare 2 liters of water in a pot, add the lamb along with the bay leaves and ginger in a medium heat. Put the lid on.
Cook until the meat is tender. Turn off the heat, and drain the lamb. (Safe the stock as you can use it for other soup. Freeze them if needs to so you can use them later on)
Heat the oil. Saute the paste, nutmeg powder, cinnamon, and cloves until fragrant. Add the lamb. Stir well.
Add 2 liters of water and salt to taste. Bring to boil.
Add stalks of celery and spring onion. Continue cooking until celery and onion turn to dark green.
Pour the milk, bring to boil. Add ghee just before serving.
Serve while still hot with a complement. You can also enjoyed this soup with steamed rice.