Late Lunch at Emma's on the Boardwalk Rockingham

Late Lunch at Emma's on the Boardwalk Rockingham.
Yesterday was a beautiful day for exploring. We drove to Bertram then continue to Rockingham as it's not too far away. I've been to Rockingham before to sing at one of the restaurant so I didn't have enough time to explore the place. The beach is really nice and few restaurant around as well, you can rent sailing boat as well if you enjoy sailing.
It was just after 1pm when we arrived, we walked around to see which restaurant we want to try this time and we found Emma's on the Broadwalk catching our attention. The restaurant looks clean and the indoor area looks comfortable, not a plastic chair, though, they've got umbrella with table and plastic chair set up in front of the restaurant. We sat and checked the menu and they all seems yum. We ordered 2 entrée which Antipasto Platter (Turkish Bread, Dips, Marinated Olives, Ham, Prosciutto, Persian Feta, Salad, Fresh Fruit, Dukkah, EVOO and Balsamic),  Ocean Plate (Soft Shell Crab, Whole Cooked Prawns, Scallops, Squid, Chef Selection, Garden Salad , Cocktail Sauce and Tartare Sauce) , a glass of Brown Brothers Moscato and a glass  of Guinness.
Both entrée was cost about $29.00 each and to be honest, the size of the entree is enough for main meal for me. Plus it came with slices of turkish bread. I'm happy with the food, they're very tasty. But there are few things that needs to be improved. It was take a while for our entree to come plus they forgotten to serve the turkish bread until they came to check if the food is ok the good thing is they are very apologetic and the waitress are nice and very friendly. The place itself needs an improvement, the ceiling needs to be painted and fresh flowers on the table would be nice touch too. I will go back there for sure, mainly for the food and the view.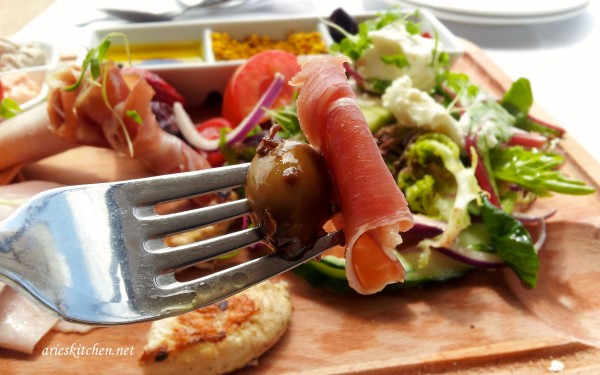 Antipasto (Prosciutto and Marinated Olives is just like Romeo and Juliet)