Learn Japanese Cooking While Holidaying in Japan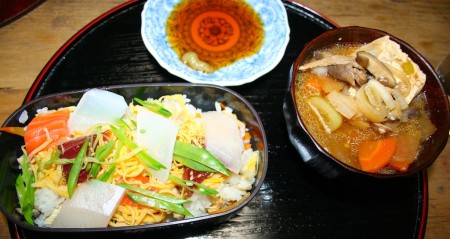 Learn Japanese Cooking While Holidaying in Japan (recipes located at the bottom of this post).
While I was planning the day to day itinerary for our trip to Japan, I found this very interesting website called Nagomi Visit. What caught my eye was that they were not only providing lunch and dinner with locals at their home, but also they have an option to learn how to cook basic Japanese dishes. I was very happy and even happier after I read all about their mission and how many people were involved. Untuk versi bahasa kunjungi Berlibur Sekaligus Belajar Memasak Di Jepang.
Nagomi Visit is a non-profit organisation founded by Megumi Kusunoki which aims to promote Japanese culture through cooking and understanding Japanese dishes. As a non-profit organisation, Nagomi Visit has managed to attract more than 400 volunteers across Japan. Now I find that is super amazing and very inspiring! Without thinking twice, I booked two tickets for Nagomi Visit near Tokyo. I booked the one on how to make three simple delicious Japanese dishes. Miso soup, deep fried chicken karaage and chirashisushi.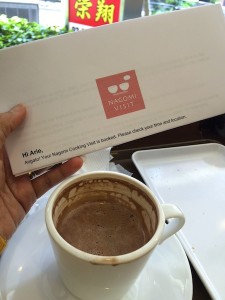 To make sure that you get your ticket, you will need to make your booking or reservation at least one month before your arrival. As it can be very busy especially during peak season such as Cherry Blossom season. We nearly didn't get ours, luckily we stayed in Tokyo long enough so we can be little bit flexible with our schedule. Nagomi Visit is not only in Tokyo, but they are all around Japan. So you can book in the city of your destination, easy.
It took us about half an hour by train from Tokyo to our Nagomi place in Kajigaya (a suburb of Tokyo). Arrived at Kajigaya station, we met with four people from Israel who participated in the program and we introduced ourselves. Not long after that the host came to pick us up. And we walked together to their home. It was such a pleasant walk as in a short period of time we tried to introduce ourselves better by telling each other what do we do and what makes all of us want to do the cooking visit.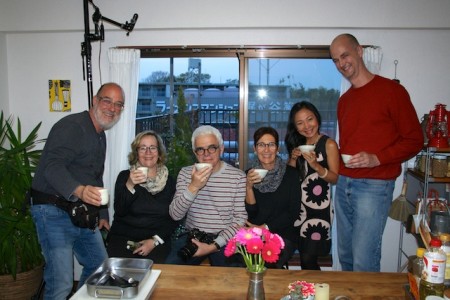 Our chef, Yuko greeted us all so warmly and soon, we offered different types of Japanese tea. Tasted so good especially the weather was rather cold.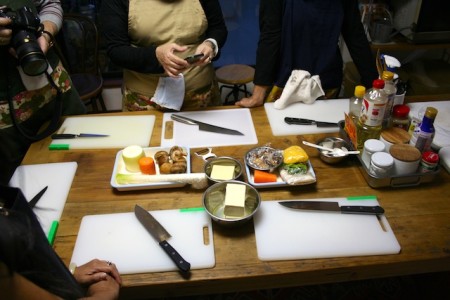 The atmosphere was getting warmer when we started the cooking. Everyone wears their apron and Yuko gave each of us a task.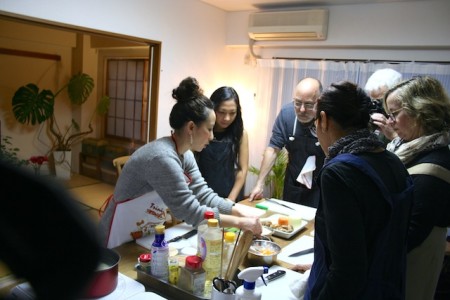 Yuko explains what ingredients are needed for our cooking tonight.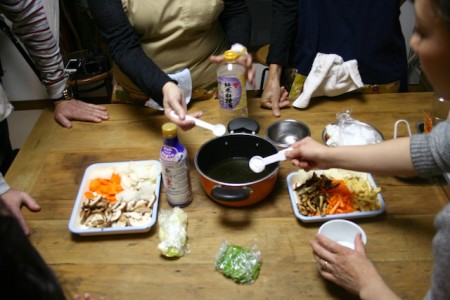 First of all what we need to do is to cut up all the ingredients. And measure the seasoning to make the miso soup. Oh, and just for your information, miso soup can be made in many ways. Some uses red beans, chicken, seafood, and pork meat. During the process of making miso soup, we prepare chirashisushi. Basically sushi rice that was served along with vegetables, fried egg and sashimi.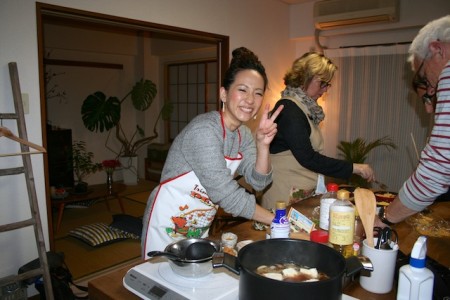 We like our chef  Yuko very much. She's very nice, friendly and a very good cook.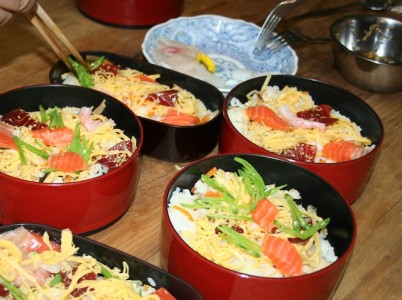 And at last….check out the result of our fun work, ladies and gentlemen ! Very appetising, isn't it 😉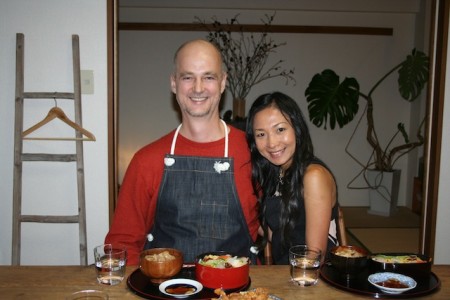 Once completed, we're all enjoy the fruits of our cooking together

Now, if you want to learn Japanese cooking while holidaying in Japan or just having homemade meals with locals at their home, please booking at the following website: Nagomi Visit.
Here are the recipes and how to make deep fried chicken karaage and chirashisushi at Nagomi Visit.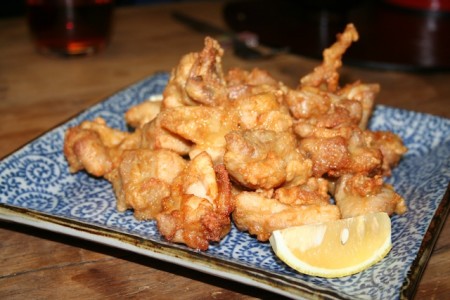 Fried Chicken recipe Karaage For 10 pieces.
Ingredients:
450gr boneless chicken (preferably using boneless chicken thigh)
2 tsp sake
1/2 tsp salt
1/2 tsp cracked pepper
1/2 teaspoon garlic puree (garlic paste)
2 tsp ginger puree (ginger paste)
2 tsp soy sauce
1 egg
4 tbsp Katakuri-ko / starch vegetables (could be replaced with corn flour / corn starch)
Cooking oil
Method:
– Dry the chicken using paper towel.
– Remove the fat parts from the chicken, then cut the chicken into pieces (roughly total of 10 pieces).
– Prepare a plastic zip bag, add sake, salt, garlic, ginger and cracked pepper.
– Add the chicken pieces into the plastic zip bag, and then massage until all the chicken pieces mixed well with the spices. Let it stand for 30 minutes.
– 30 minutes later, prepare a bowl and whisk eggs until well mixed. And then add the egg with the chicken pieces in still in plastic bag, make sure they are mix well.
– Add the soy sauce, mix well.
– Add Katakuri-ko, mix well.
– In a mean time, heat the oil in a frying pan about 170 degrees celsius.
– Fry half of the chicken for 3 minutes. Drain.
– Fried the rest of the chicken for 3 minutes, and then drain.
– Turn up the heat to approximately 180 degrees celsius (high heat), then return the chicken to fry for about 2 minutes or until golden brown and crisp.
– Serve fried chicken karaage with slices of lemon.
Tips:
The purpose double frying is to get a "crispy on the outside but moist and soft in the inside" texture.
Not bad, isn't it ?
The next recipe is Chirashizushi (sushi rice serve with bowls, topped with vegetables, fried egg and assorted sushimi (raw seafood).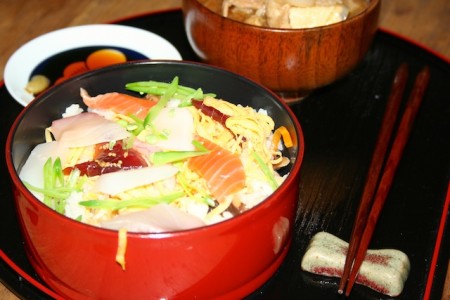 Recipes How to Make Chirashizushi.
Ingredients:
420gr of sushi rice
1 1/2 tablespoons vinegar powder
1/2 carrot
4 pieces of dried shitake mushrooms
Abura age (Japanese style dry fried tofu)
1 piece hard tofu (Koya tofu)
150 cc dashi broth
1 tbsp soy sauce
1 tablespoon sugar
1 tbsp sake
1 egg
A little bit of salt
1 tsp sugar
1/2 tsp Katakuri-ko (vegetable starch) could be replaced with corn startch
1 tbsp salted sauce
1 tbsp mirin sauce
1 tsp sesame seeds
9 snow peas
Assorted sashimi (tuna, salmon, shrimp, squid, whichever your preference)
How to make Chirashizushi:
– Cook the rice according to the instructions in the packaging.
– Soak the dried shiitake mushrooms in 150 cc of water.
– Meanwhile, cut both sides of beans, peas, washed, then boiled briefly. Cut diagonally into thin slices. Set aside.
– Beat the eggs in a bowl. Make a very thin omelette, slice thinly. Set aside.
– Peel the carrots, wash and then slice into the size of matchsticks. Set aside.
– Separate the mushroom from the water (REMEMBER: keep the water as you will use it later on).
– Remove the stem of the mushroom, and then cut into thin slices. Set aside.
– Use paper towel to reduce the oil content in the thin fried tofu (Abura age). Then slice them approximately 1 cm. Set aside.
– Meanwhile, soak the Koya tofu with warm water for 1 minute to get to a softer texture. Then cut into pieces, roughly the size of 2 cm. Set aside.
– Mix the dashi broth, the remaining water from the shitake mushrooms, 1 tbsp soy sauce, 1 tablespoon sugar and sake into a small saucepan.
– Add the sliced carrots, mushrooms, dried tofu (Abura age) and Koya tofu into the pot. Cover the pan with baking paper and cook over medium heat for about 9 minutes.
– Meanwhile, place rice that has been cooked into a bowl, add the vinegar powder gradually while stirring slowly. Do not let the rice clot.
– Drain the water from vegetables, make sure the water is completely discharged. Then add to the rice. Stir slowly. Set aside.
– Prepare a medium-sized bowl, put 1 tablespoon of soy sauce, mirin sauce and sesame seeds, stir well.
– Add assorted sashimi (raw seafood) into the sauce. Mix well.
– Arange sushi rice that has been mixed with the vegetables into serving bowls, add the omelette, snow peas, and sashimi on top.
– Chirashizushi ready to be enjoyed with family or friends! Oishiiiiiii …… !!!
I know it does look like so much effort to make both dishes but it is absolutely worth it for family gathering or get together with friends. And don't forget the sake 😉
I would like to thank Nagomi Visit for the opportunity to get to know Japanese culture through food and cooking. The opportunity to meet beautiful people such Yuko and husband, also the other two couples from Israel on our amazing holiday. The food was amazing, delicious and very inspiring. Now we understand some Japanese table manners and we would love to go back again one day…. Dōmo arigatōgozaimashita !