Marble and Onyx from Tulungagung

Marble and Onyx from Tulungagung.
Untuk versi bahasa kunjungi Marmer dan Onyx Tulungagung.
My hometown, Tulungagung is well known for its marble products and recognized as the biggest marble craft producer in Indonesia. The biggest marble craft industry is located in Campurdarat Subdistrict where most of the craft artists and entrepreneurs live. It's strange that I never really paid attention to it when I lived there, but now I live overseas I appreciate it more. We made an effort to visit the marble and onyx area (Campurdarat) on my recent visit to my hometown earlier this year. We hopped from one shop to another and were amazed with the artwork, most of it done by hand.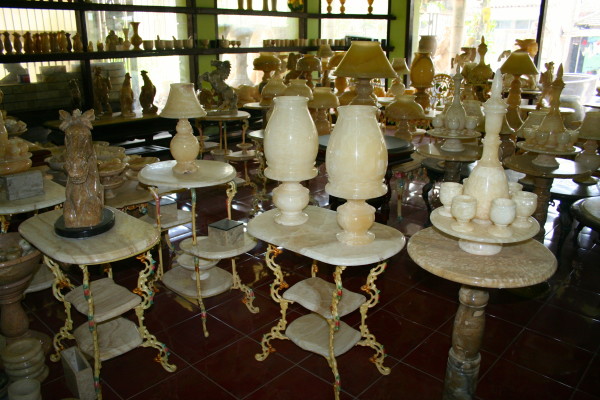 Seems like most of the shops are selling similar products, but if you have time to have a chat with the owners, they have their own specialties like this one we visited.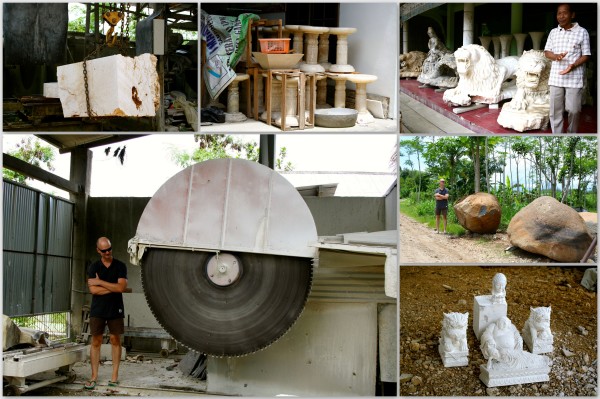 They are so kind to took us to the production area located at the back of the shop to have a close look of what they are doing and how they make their product. This place produces lots of big items like solid rock bathtubs, basins, big statues made of one piece of giant onyx and marble, as well as small to medium products. They are aiming at international markets such as Italy, Korea, and commercial buildings like hotels. When I asked how much they spent on the equipment, the answer amazed me as it can be very expensive. In other words marble and onyx can be million dollars business.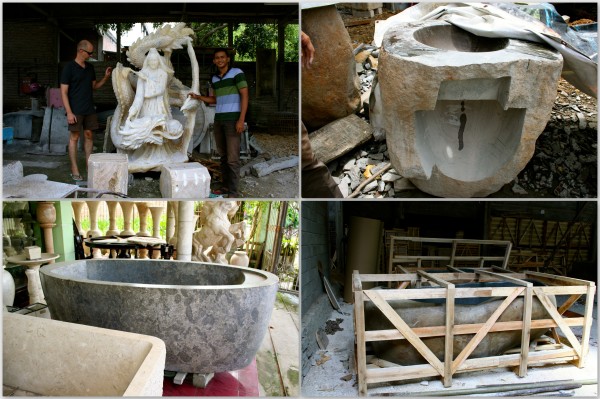 Those products above are prepared for export. One bath can cost between USD $2,500.00 to tens of thousand dollars depending on the sizes and models. Look at that Chinese statue in the top right. It is made from one big piece of onyx and it cost about USD $ 12,500.00. It was not finished yet but you can see the details of crafting by the hand. Amazing isn't it ?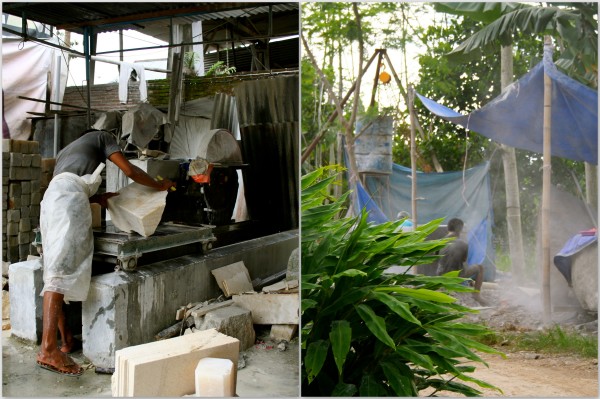 Talking about amazing stuff, there is one thing that could be improved, the staff's equipment. Been living in Australia for awhile make me notice that all the equipment the staff wearing is not safe at all. They wear sandals and no proper masks or other safety gear at work. Where are the steel cap boots, helmet, mask (as it can be very dusty) and even the gloves? I know they have been really careful with all the risk but still isn't healthy. And I hope the owners will do something about that.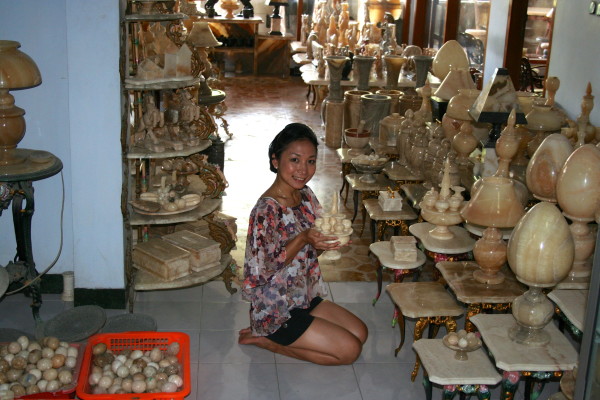 From the production area, we came back to the shop and had a look at their fine artworks. We found a few things we like and headed home. Items they sell from USD $ 0.50 to unlimited price depend on how much you want to spend!
So, any plan to visit Tulungagung ? If you have any questions, please just put on comment and I will reply as soon as I get it.
From Arie's Kitchen trip 07.01.2014