Mie Goreng – Special Fried Noodles Recipe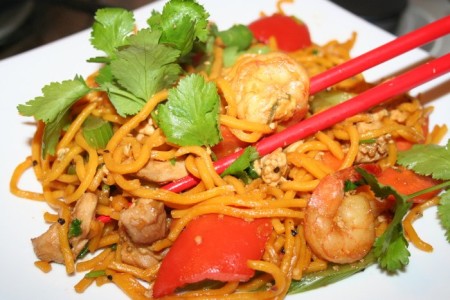 Mie Goreng – Special Fried Noodles Recipe.
You can change the vegies and meat to your favourites. Sometimes I add cabbage as well as bean sprout. And for the meat if I don't have prawn or chicken, I put sliced meatballs, beef, basically anything I can find in my fridge. Easy right ?
Mie goreng is one of favorite dish in Indonesia, especially in Java. You will find nearly every medium to big restaurant have got Mie Goreng on their menu.
Plus….. maybe you wonder how come Mie Goreng can taste totally different! It's because Indonesia had so many little region with their own taste. For example in Central Java the food taste sweeter than East Java where it's more savoury.
Share your experience with me if you have tried Indonesian food and tell me what you think

Untuk versi bahasa kunjungi Resep Mie Goreng Spesial.

Mie Goreng - Special Fried Noodles Recipe

Ingredients:
2x 450 fresh hokkien thin noodle
500 gr chicken thigh fillet, cut into small pieces
3 carrot, cut thinly
1 capsicum, cut into pieces
3 stalk of celery, slice
4 eggs
500gr prawn
6 chilli padi, slice thinly
8 garlic clove, minced
1 tsp cracked black pepper
½ tsp salt
½ cup sweet soy sauce
5 tbs cooking oil/olive oil
2 tsp brown sugar
1 cup chopped coriander leaf
Cooking Instructions:
Cook the noodle, set aside.
Heat oil, sautee garlic and chilli.
Add chicken, stir occasionally until half cooked.
Add prawn, cook until prawn change the colour.
Using spatula, push everything on the half side of pan/wok, use the other half to cook the egg, keep stir the egg until it's cooked.
Add carrot, celery, and capsicum, stir about 2 minutes.
Add pepper, salt, brown sugar, stir and mix all in the pan/wok together.
Add noodles, stir well.
Add coriander leaf, stir well.