Mushroom Risotto Recipe.
Untuk versi bahasa kunjungi Resep Risotto Jamur Enak dan Mudah.
Tasty and easy is the right definition of this dish. No joke, when I feel under weather most of things are seems harder even chewing my food! And this mushroom risotto is one of my comfort food. Cooking risotto can be tricky as the rice can be soggy and ended up like porridge. To avoid that, the secret is a gentle stir and add the liquid as needed. Well….easy right ?. For more risotto recipe, check out Prawn Risotto Recipe and Basic Risotto Recipe.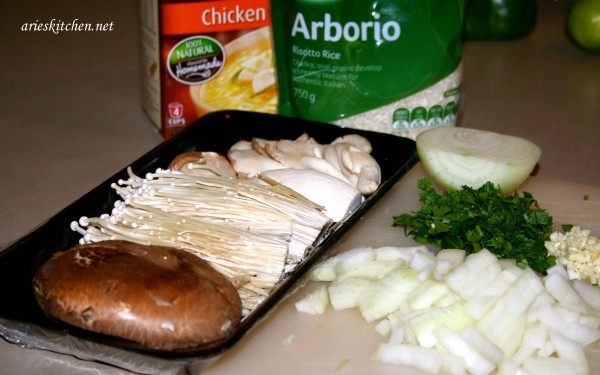 Mushroom Risotto Recipe

Ingredients:
1 cup rice for risotto (I use Arborio)
350gr assorted mushrooms ( I use enoki, field, king oyster and oyster mushroom), sliced
½ medium yellow onion, minced
3 tablespoons extra virgin olive oil
1 large clove garlic, minced
6 sprigs flat leaf Italian parsley, finely chopped
5 cups chicken stock (for vegetarian, use vegetable stock)
1 tablespoon butter
Freshly ground black pepper
Salt
Cooking Instructions:
Put the chicken stock in a pot over high heat and bring to boil, then lower the heat to maintain a very gentle simmer.
Sauté the onion until turns to a rich golden color, about 5 minutes.
Add the garlic and parsley and sauté for 30 seconds.
Add all the mushrooms and season with salt and pepper.
Add ½ cup water and cook until all the liquid evaporates and the mushrooms are tender and lightly browned, about 10 minutes.
When the mushrooms are ready, add the rice and stir until it is well coated.
Add about 1 cup of the hot chicken stock and continue stirring. Add only enough chicken stock to produce the consistency of a rather thick soup and wait until all the liquid is absorbed before adding more. Continue until the rice is al dente, 15 to 20 minutes.
Remove the risotto from the heat, add the butter, stir well and serve while it's hot.