Nasi Goreng Special Recipe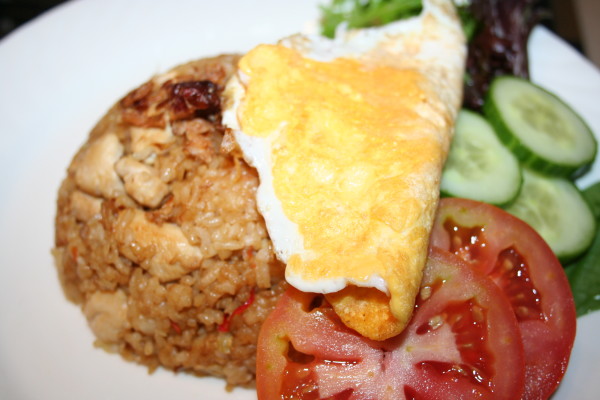 Nasi Goreng Special Recipe.
Nothing is more comforting that eating Nasi Goreng Special when I miss my hometown. We use to eat rice for breakfast, lunch and dinner which now I can only eat rice for lunch and dinner. But if it's rice porridge, yeah I still can have that for breakfast. We ate rice for breakfast because we need it, for example we have to walk more than 2 kilo metres each way going and back from school not to mention it's hilly too. Yes we lived in the middle of beautiful mountain. Here's some picture of mount Wilis from my trip in January 2014.
Untuk versi bahasa kunjungi Resep Nasi Goreng Spesial.
Nasi Goreng Special Recipe

Ingredients:
Cooked rice, room temperature, 2 portion
3-4 garlic clove, thinly sliced
1 big shallot/French onion, sliced
200 gr chicken fillet (chop into small pieces) – you can also use beef, pork, prawn if you don't like chicken
2 red chilli - optional, sliced
½ half small tomatoes, clean the seed, chop into small pieces
2 cabbage leave, thinly sliced
2 tablespoon sweet soy sauce
salt (garam)
Fried shallot - you can buy it from Asian food shop
⅓ cucumber, sliced
1 tomato, sliced
mix salad - optional
2 eggs - lightly fried
Cooking Instructions:
Saute shallot, garlic, chili and chopped tomatoes until fragrant.
Add chicken, stir ocassionaly until chicken cooked.
Add rice, mix well.
Add cabbage, mix well. Until the cabbage cooked.
Add sweet soy sauce, mix well.
Serve NASI GORENG with slice tomato, cucumber, little bit of green salad and fried egg. Sprinkle with fried shallot.