Roasted Mushrooms Salad Recipe
Easy Roasted Mushrooms Salad Recipe.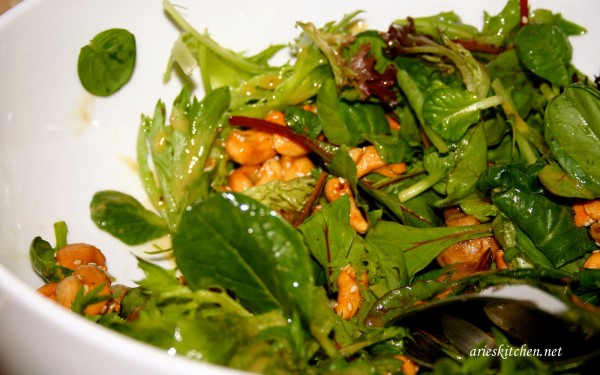 I've got this roasted mushrooms salad recipe from pamphlets I picked up from one of groceries place near my house. Obviously it promotes local mushroom, unfortunately I could not find it online but I know that they selling mushroom Cookbook for $28 each. Looks like it's from Australian Mushroom Growers Association as they didn't mention who's the chef is. Untuk versi bahasa kunjungi Resep Cara Membuat Salad Jamur Kacang Mede.
Anyway, I made the salad and the taste is very good, and I made some changes to my taste too. Wicked !
Roasted Mushroom Salad Recipe

Ingredients:
800 gr fresh small button mushroom, trimmed
8 spring fresh thyme
100ml olive oil
1 cup unsalted roasted cashew
1 tbs honey
2 tbs sesame seeds
200 gr mix green leaf
2 tbs wine vinegar
1 tbs dijon mustard
salt and pepper
1 tbs honey for dressing
Salad Dressing:
Combine 4 tbs olive oil, honey, vinegar, mustard, salt and pepper in a screw-top jar, shake to combine. You salad dressing is ready.
Cooking Instructions:
Place a large roasting pan in the oven, preheat oven 220 degrees Celsius fan forced for.
Add mushroom to the hot pan, add thyme and drizzle over 2 tbs olive oil. Shake the pan to coat all he mushroom.
Roast mushroom for about 15 minutes. Set aside.
Meanwhile, heat a medium non-stick frying pan. Add 1 tbs olive oil, add cashew nut, honey and sesame seeds, toss gently to coat.
Remove cashew to a plate to cool down.
Mix the cashews and green leaf with the mushroom.
Pour the salad dressing over the mushroom salad, toss gently to combine.
Best to serve warm.