Second Day in Tokyo – Japan Holiday Day 2
Second Day in Tokyo – Japan Holiday Day 2.
Visiting Yashukuni Shrine, Chiyoda Park – Tokyo Imperial Palace, Ueno Park, Tokyo National Museum and Yurakuco.
Yasukuni Shrine (Yasukuni Jinja).
After breakfast, we left the hotel at around 9.30 am. Another cold morning. We walked to the Yasukuni Shrine that is located not too far away from the hotel we stayed at. It takes about 25 minutes walk from the Hotel Grand Arc Hanzomon to the Shrine. A very pleasant walk actually as we can see cherry blossoms near every corner of the street, along the footpaths, basically nearly everywhere. Even though it has passed the full blooming season, some of the sakura trees were still looking beautiful. Untuk versi Bahasa kunjungi Hari Kedua di Tokyo – Edisi Liburan di Jepang Day 2.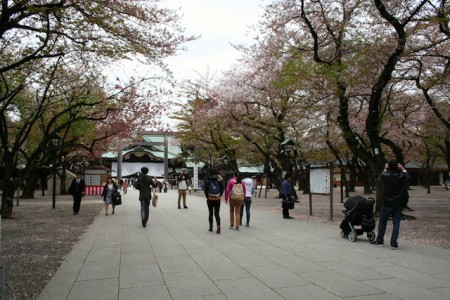 Arriving at the shrine's gate, there was a gentlemen who spoke in Japanese very politely to us. I just shook my head because I have no idea what his intention is and I felt so bad as I can see that he tried really hard. Then he does body language that to me looks like "wait a minute". So we stood there waiting for him to come back. As he left us waiting, he bowed to a building in front of him, went into the building and came back out, and bowed again.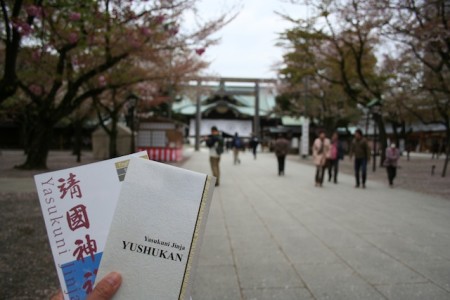 I can see that he's holding a pamphlets about Yasukuni shrine in English. Ooooh … .now we know that he wanted to ask if we wanted pamphlets about the temple and its history in English. Then we both bowed and said Arigato. He smiled and did the same thing. I can see on his face that he's very proud and feeling successful that his mission to give us the pamphlets accomplished

That morning was even more beautiful because of the hospitality of the gentleman we meet at the shrines gate. God Bless him. Then we walked to the into the temple grounds with a big smile on our faces.
History of Yashukuni Shrine.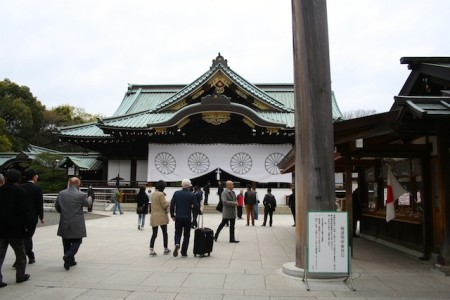 The origin of Yashukuni Shrine is Shokonsha established at Kudan in Tokyo in the second year of the Meiji era (1869) b the will of the Emperor Meiji. In 1879, it was renamed Yashukuni Shine.
When the Emperor Meiji visited Tokyo Sokonsha for the firs time on January 27 in 1874, he composed a poem "I assure those of you who fought and died for your country that your names will live forever at this shrine in Musashino". As can be seen in this poem, Yashukuni Shrine was established to commemorate and honour the achievement of those who dedicated their precious lives for their country.
The name of Yashukuni given by the Emperor Meiji represents wishes for preserving peace of the nation.
Currently more than 2,466,000 divinities are enshrined here at Yashukuni Shrine. These are souls of the men who made the ultimate sacrifice for their nation since 1853 during national crisis such as Boshin War, the Seinan War the Sino-Japanese and Ruso-Japanese Wars, World War 1, The Manchurian Incident, The China Incident, and The Greater East Asian War (WW 2). Those people regardless of they rank of social standing, are considered to be completely equal and worshipped as venerable divinities of Yashukuni.
Japanese people believe that their respect to and awe of the deceased is best expressed by treating the dead in the same manner as they were alive. Hence, at Yashukuni Shrine, rituals to offer meals and to dedicate words of appreciation to the dead are repeated every day. And twice every year, in spring and autumn major rituals are conducted. On which occasion offerings from His Majesty the Emperor are dedicated to them. And also attended by members of the imperial family.
Thus, Yashukuni Shrine has a deep relationship with the Japanese imperial family. Also five million people visit the Shrine every year since it is known as a central institution for commemorating those who died in war.
Around Yashukuni Shrine.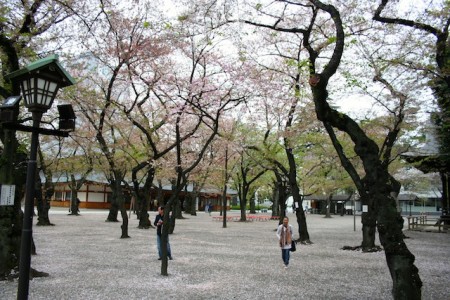 There are about 600 cherry trees around the shrine, many of which are somei yoshino and yamazakura varieties. The oldest cherry trees was planted in 1870. Each year, the Japan meteorological Agency bases it's cherry blossom flowering forecast on the cherry trees at Yashukuni Shrine.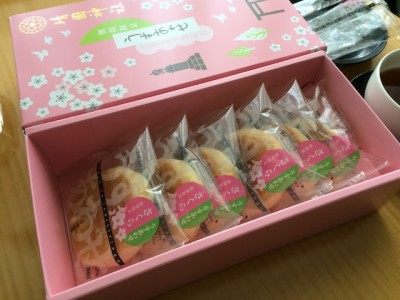 If you visit this temple during Cherry Blossom season, make sure you buy Cherry Blossom pie located in front of the temple. It tasted pretty good, and most importantly is a portion of the money is donated back to the Yasukuni shrine.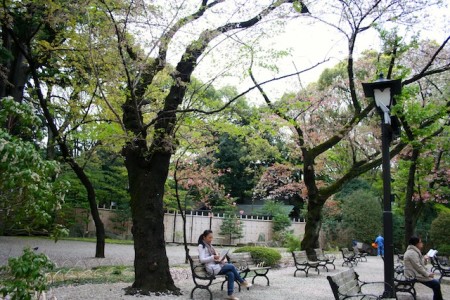 Not only the temple that attracts a lot of attention to this place. Rings for sumo, museums and beautiful gardens are worth to look at. The photo above is taken from one of the parks behind the temple named Shinchi Teien (sacred pond garden ). Where there is a pool and a small road leading tea house. Very beautiful. The park is very well known not only in Tokyo, but also throughout Japan due to age and beauty.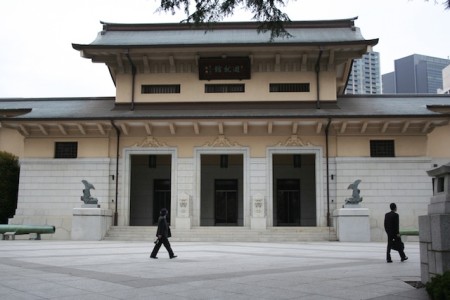 Yushukan museum above is a museum to inherit sincerity and records of enshrined divinities of the Yashukuni Shrine by displaying their historically important wills and relics. This museum was established in Meiji 15 (1882) and stores 100.000 articles including many pieces of paintings, work of art, armour and weapons. "Yushu" the name of this museum means to associate with and learn from high-principled people.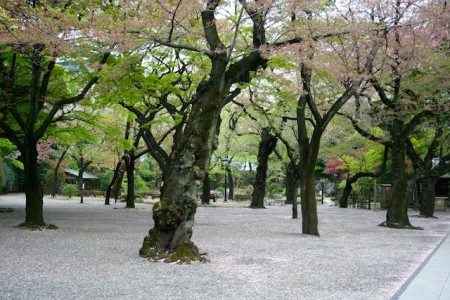 This beautiful garden is located just a few hundred meters from the museum. I love to be here during this time of year, the ground under the trees covered with cherry blossom petals. Very peaceful, just a perfect place to relax or just read a book all day.
Chiyoda Park .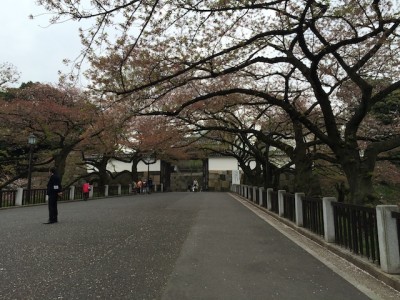 From Yashukuni Shrine, we walked towards Chiyoda Park, where the Imperial Palace in Tokyo is located. Elegant cherry trees line along the road to the park gate. Unfortunately we were late by a few days for the full blooming. But you can imagine how beautiful the cherry blossoms would be at the perfect time. The trees will be filled with pink and white petals of the cherry blossom.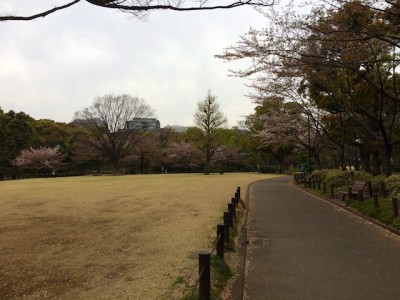 Inside the garden looks very neat and definitely well looked after. The toilet cleaners cycling from one toilet to another to keep them clean at all the time. We were surprised when we saw one family voluntarily clean up the park by pulling the weeds from under the tree where they sitting around. Apparently there are a lot of volunteers like that in Japan. Who give up their free day on the weekend to maintain the beauty and cleanliness of public places. They looked very proud of the culture and their country. Very impressive.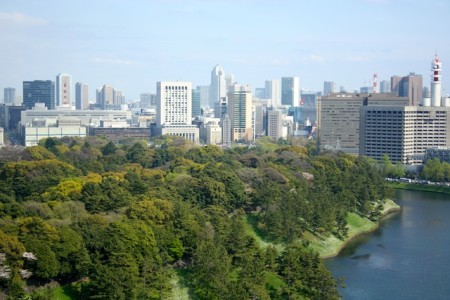 Photo above is a photograph of part of Chiyoda Park we took from our hotel room. So you can see how big the size of this park really is. In the morning and afternoon, the park is also used for jogging by locals.
Imperial Palace.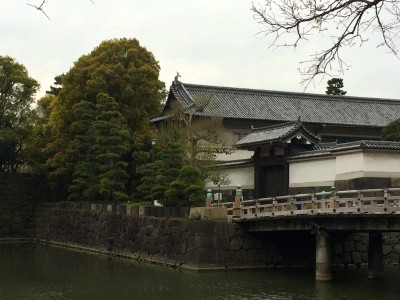 From Chiyoda Park we then walked past the Imperial Palace. The royal family live in this Palace, therefore this palace is heavy guarded. For your information, Tokyo Imperial Palace is open to the public only twice a year. On January 2nd ( for new year ) and December 23rd, a day to commemorate the anniversary of the Emperor.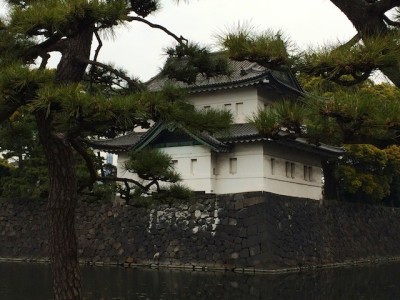 The building in the picture above is meant to be the guard building for the palace. They don't seem still in use anymore and seems like it's there as a symbol of what the palace used to be. Even though your not able to look inside the Imperial Palace, try spending some time walking around the area. The landscape is pretty good, especially during the cherry blossoms season.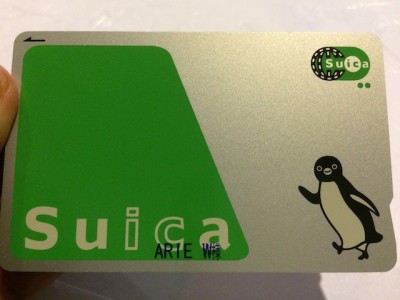 We finished walking around Chiyoda Park and the Imperial Palace, then we went straight to the Tokyo train station to buy our train tickets. These tickets can be refilled and to used, just tap at the entrance and exit gate of the station. It can be used for other transportation as well so keep these cards handy.
Ueno Park and National Museum.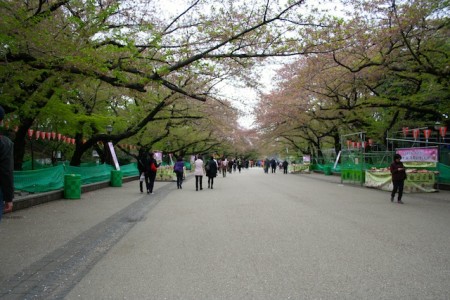 The trip to Ueno Park was our first trip using the train services in Tokyo. The ride was very pleasant as the train was very clean and quiet.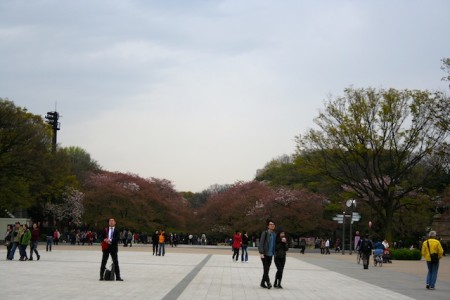 Ueno park is famous for cherry blossoms viewing as there are more than 1000 trees around the park. At the time of full bloom, this place is dominated by pink and white petals of cherry blossoms. Thousands of people came to this park to do Hanami ( cherry blossom viewing Japanese style ). Such a shamed we missed it


Not only cherry trees that can be enjoyed in the park there are also ancient Japanese houses and temples. Such as the Kiyomizu Kannon Temple, Toshogu Shrine, and Bentendo. Not less importantly, there is also a Starbucks in the park YAY !!! ; )
Museum.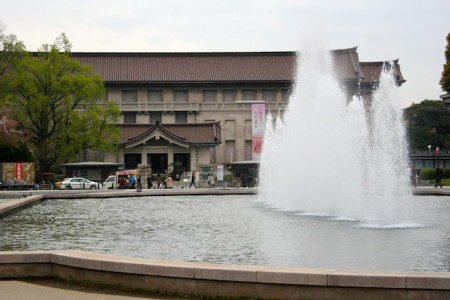 Not far from Ueno Park is the National Museum. There are three separate museum buildings where every building has their own function.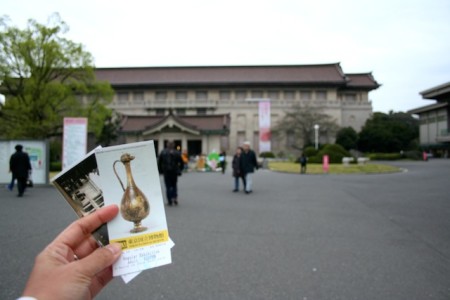 The building above is the main building called Honkan ( Japanese Gallery ). Treasures on display include samurai weapons, samurai armour, kimono dresses and many more.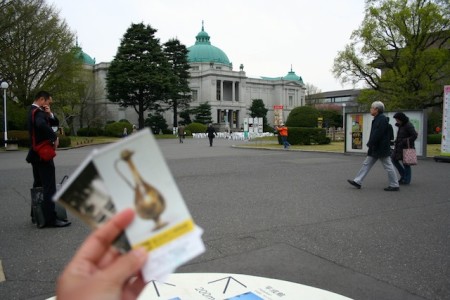 The museum building on the left of the main building called Hyokeikan. This building was completed in 1909. Mostly used for special exhibitions. You will need to pay extra to enter exhibitions in this building.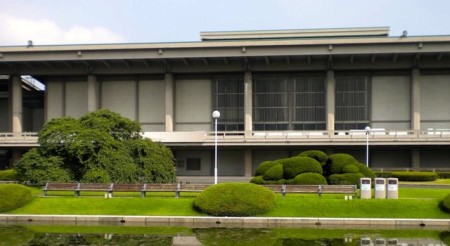 The museum building on the right is called Toyokan (Asian Gallery ), it is used to display historical objects originating from China, Korea, Southeast Asia, India and Egypt. These three museums are worth a visit especially during rainy weather like when we were there. If you love history, you might want to spend all day in the museums, so much to see!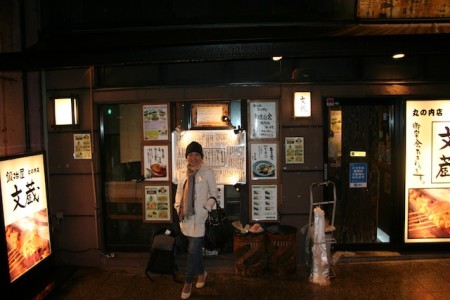 Around 5 pm the rain had stopped. We rode the train from Ueno station to Yurakuco. We had dinner in the area again, but in a different place this time. We love eating in this area very much.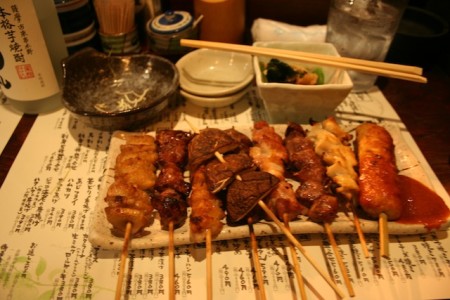 This time we tried Yakitori restaurant or Japanese-style skewer dish. We ordered 8 yakitori chicken. The eight of them come from different parts of the chicken. This includes chicken meat, chicken liver, heart, soft bones from the chicken breast, and other parts.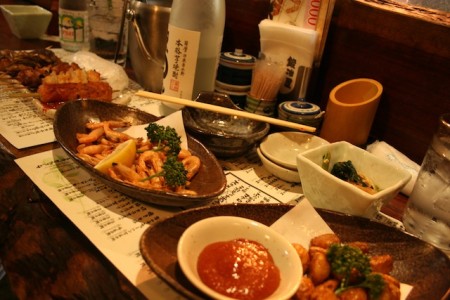 To accompany yakitori , we also ordered fried garlic and fried shrimp. Although the shrimp are small, they are very tasty especially enjoyed with fried garlic.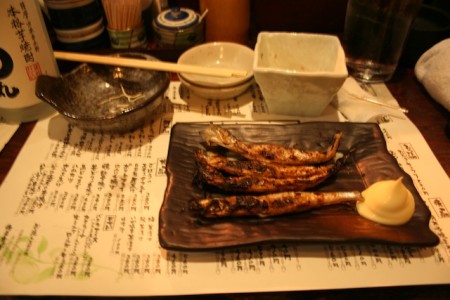 We also ordered fried sardines. Not bad at all !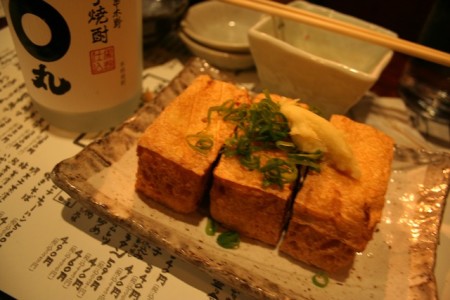 And the last one was fried tofu. That night we finished a big bottle of sake and feeling extra happy at the end of the night for some reason 😉
We walked back to the hotel. As we were little bit tipsy, we've got lost. Luckily an amused security guy showed us the way back to Chiyoda Park where our hotel located near by. We both can not wait to start a new adventure the next day.
Our second day in Tokyo was very enjoyable

Check out our up coming post about our amazing holiday trip to Japan. Please feel free to throw a comment or two below if you have any question about trip to Japan. Arigato

Ps: If you missed our my latest post about learning to cook Japanese Meal during our holiday, simply click HERE.
Arie's Kitchen Travel Diary dated 10.04.2015