Simple Prawn Spaghetti Recipe
Simple and Easy Prawn Spaghetti Recipe ala Arie's Kitchen.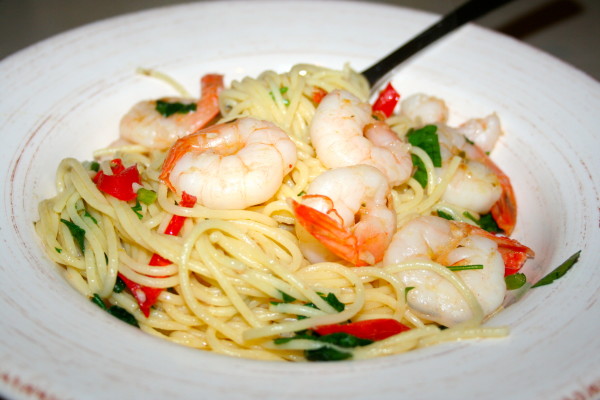 We always have dried spaghetti or other pasta in our pantry as it's one of emergency supplies in our kitchen 😉 Basically just in case I don't have much time to cook lunch or dinner, a quick pasta dish is the answer. Untuk versi bahasa kunjungi Resep Cara Membuat Spaghetti Udang Pedas.
There is no secret that pasta is one of quickest and easiest dishes for most of families. Depending of what kind of pasta dish you are making. You can just have pasta with salt, pepper, garlic, anchovies and olive oil. Or even with Vegemite and tinny little bit of butter (I saw the Vegemite spaghetti recipe through Nigella's cooking program by the way) and it is delicious indeed.
I love experimenting with food. So if my recipe's not so Italian, I can't help it. It's just too delicious, a taste that tickling my belly 😉 Don't forget to have a look at Arie's Kitchen other Pasta Recipe.

Simple Prawn Spaghetti Recipe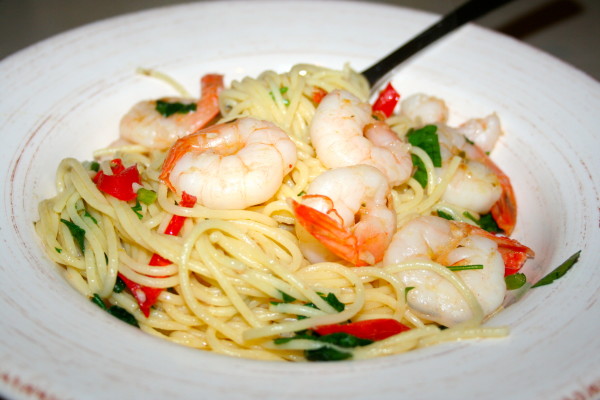 Ingredients:
200gr dried spaghetti
300 gr fresh prawn, skin off
3 garlic cloves, minced
2 red big chilli, slice thinly (the amount is optional)
½ tsp dries oregano
Sea salt as needed
5 tbs cooking oil (preferably olive oil)
½ cup chopped Italian parsley
Cooking Instructions:
Boil enough water in a deep pot. Carefully place the spaghetti into the boiling water, making sure that the spaghetti is completely covered with water. (cook as per package directions) it may take between 7 - 15 minutes depending on the type of pasta.
Heat the oil in a pan, sauté chilli and garlic until beautifully fragrant.
Add the prawn / shrimp until it change color to light pink.
Add the dried oregano, gently mix well.
Drain the spaghetti, and then add cooked spaghetti into the pan. Mix well with sautéed prawn.
Taste, add salt if needs to.
At last, sprinkle the parsley, mix well.
Serve while it's hot.