Sliced Baked Eggplant Recipe
Sliced Baked Eggplant Recipe Topped with Minced Chicken.
Cooking should be all about what we like and how we want the taste to be. I can tell you that we love this entree dish and it definitely satisfies our taste buds. Untuk versi bahasa kunjungi Resep Terong Panggang Daging Ayam Cincang.
We love eggplant, we made beautiful Eggplant Lasagne the other day and it was worth the time. You may think that eggplant is boring. Well, if you think that, I reckon you just don't know how to cook it yet

This recipe is super easy ! I promise you, it's going to be simple. No waiting time needed 😉

Sliced Baked Eggplant Recipe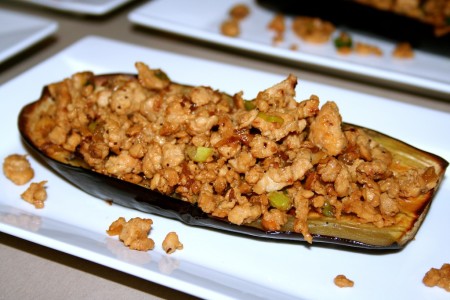 Ingredients:
1 large purple eggplant, approximately 500 to 600gr
300 gr minced chicken
3 cloves garlic, minced
½ small size onion, minced
1 teaspoon sesame oil
2 tbsp mirin
¼ teaspoon cracked black pepper
2 tablespoons soy sauce
1 spring onion, sliced
2 tablespoons cooking oil for frying
For seasoning:
Olive oil
Salt
Ground pepper
¼ teaspoon dried oregano leaves
Cooking Instructions:
Instructions
Preheat oven to 200 degrees celsius.
Rinse eggplant, discard both end parts and then cut lengthwise into 4 pieces each eggplant.
Arrange eggplant in baking dish, drizzle or spray with olive oil, then sprinkle with a little bit salt, pepper, and dried oregano leaves.
Bake until sliced eggplant golden brown or about 30 minutes. Remove from the oven.
In a meantime, heat the cooking oil in a frying pan, saute onion and garlic until fragrant and soft.
Add minced chicken, stir until half cooked and does not clot.
Add sesame oil, mirin, pepper, soy sauce. Stir until the minced chicken is cooked.
Finally add the chopped spring onion. Stir briefly, turn off the heat.
Place roasted eggplant on a serving plate.
Add in the chicken mixture.
Serve while still warm.

Thank you for visiting my website. Please leave a comment below if you like or have a question about this sliced baked eggplant recipe. Many thanks !