Spaghetti Bolognese Recipe by Dom
Super delicious spaghetti bolognese recipe by Dom.
Again, I can't thank enough to beautiful Dom for her generosity giving us this spaghetti bolognese recipe. Her family recipe actually. I hope you all enjoy the recipe as much as we do. We just can't get enough !!! Check our her other amazing recipe How To Make Homemade Ricotta. 
Here's what she wrote:
Spaghetti Bolognese Recipe.
A delicious tradition dish – Bolognese Sauce or ragù, needs a perfect accompliment. The wide noodles capture all that lovely sauce and create the perfect canvas upon which to enjoy the deep flavors.
Writing this recipe has been like a tongue that keeps worry a sore tooth, that I keep coming back to. You see it's apparent simplicity is deceptive because the method is just as important as the ingredients.
"Spag bol or bog", is a dish invented outside of Italy consisting of spaghetti with a meat sauce. While the dish has has been a staple for millions of diners around the world for decades, Italians claimed the original recipe had become so corrupted it was in need of culinary rescue.
While my family recipe deviates a little from the "Accademia Italiana della Cucina" official version, I'm sure that given the characteristics of Italy, where within a few kilometers there are relevant changes in customs and traditions, this is authentic as it gets. It's a basic ragù, ingredients include pancetta, carrots, celery, onions, garlic, tomato paste, crushed tomatoes and a dash of wine.
A few basics…. Italians do not serve this sauce with spaghetti, because it tends to fall of the pasta. Traditionally fettuccini or tagliatelle is used. Remember that this recipe is characterized by long slow cooking, you might as well make a huge batch… half now, half to freeze. Just double the ingredients.
Reserve a cup of the pasta water. Finish cooking the pasta tossed in the sauce for 3-4 minutes, using a little of pasta water if needed .
This will serve 6 hungry people. Untuk versi bahasa kunjungi Resep Spaghetti Bolognese Asli Italia.

Spaghetti Bolognese Recipe by Dom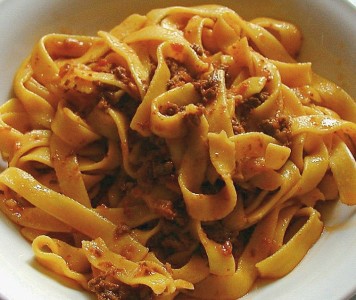 Ingredients:
250g lean minced beef
250g lean minced pork
75g pancetta cubed or 6 slices parma ham, or even 4 Italian pork sausages (skins off)
140g tomato paste (1 small tub)
2 400g tins crushed tomatoes
1 onion
1 carrot
1 stick celery
2 cloves garlic
3 tbs olive oil
250 ml's red wine (1 cup) or white, it's up to you
2 tbs butter
1 tbs dried oregano
1 cup water or beef stock
1 bay leaf
1 tsp sea salt
1 tsp sugar
½ tsp nutmeg
½ cup hand-torn fresh basil leaves
500g fettuccini or tagliatelle (the wider the better)
Cooking Instructions:
Finely chop all the vegetables.
Heat oil and butter, add pancetta. Cook until golden.
Add onion, garlic, oregano, combined mince and all the vegetables. This step is important - cook until the mix is quite dry and starts to caramelised.
Add tomato paste, season and cook for 3-5 mins.
Add wine, turn up heat a little and burn off alcohol 2 mins.
Add crushed tomatoes, bay leaf, nutmeg, stock or water.
Leave to simmer over low heat, for an hour or more if you have time, stirring occasionally.
Cook fettuccini to slightly under-done in salted water, drain and add to the sauce with the fresh basil and cook for a further 2-3 mins.
Serve with crusty bread. Parmesan cheese is always served separate on the table.

!Ps:
If you're dead set on using spaghetti, a good quality pasta – like Barilla is the key.
You might like try a light coating of parmesan cheese on the cooked spaghetti before the final cooking in the sauce.
The idea is that you are "roughening" the surface which in turn helps the sauce stick to it.
If you're a do-it-yourselfer and have a little bit of MacGyver in your hearts, you'll likely consider other creative inventions.
I've experimented – and this really WORKS!! Quite brilliant really.

Ciao and Buon Appetito.