Steamed Salmon with Kale Recipe
Tasty with little bit of kick with chilli make this recipe on our top list monthly menu. Steamed Salmon With Kale Recipe.
No doubt, this steamed salmon is my favourite dish to make when we have visitor that doesn't eat other meat such as beef, pork, lamb and also chicken. Easy to make, very simple and yet delicious. Hmm….hmmm….looks pretty too 😉 Untuk versi bahasa kunjungi Resep Salmon Kukus Dapur Arie.
If you don't have steamer, don't worry. You can simply use a wide and slightly deep pot and a serving dish/s. Put the smaller serving dish/s into the pot, after adding enough water to the pot to about half the serving dish height.(You can just use one big dish in the pot, or use a few smaller ones) and bring to boil in a low heat. Put the lid on. Cook the fish to your liking.

Steamed Salmon with Kale Recipe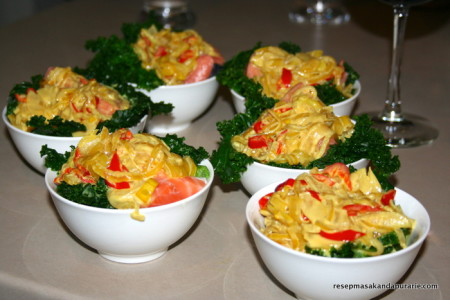 Ingredients:
4 pieces of salmon fillets (about 150gr each), and each of them cut into 4 pieces
400 grams of kale laves or silver beet
1 medium onion, thinly sliced lengthwise
5 cloves garlic, thinly sliced
1 stalk lemon grass, take the white part only and then thinly sliced
3 tablespoons fish sauce
1 big red chili, chopped or thinly sliced
1 cm fresh ginger, minced
¼ tsp turmeric powder
1 handful of chopped coriander leaves (you can skip this part if you don't like it)
Salt to taste
2 tablespoons cooking oil for frying
100 ml water
200 ml coconut milk
Cooking Instructions:
Wash the kale leaves, remove the core and use only the leaves.
Boil water in a pot, add kale leaves with a little bit of salt until a little bit soft but the colour is still nice and green. Make sure the texture still little bit crunchy, not too soft.
Remove from the heat and discard the hot water, and then add cold water into the cooked kale. Soak the leaves in cold water for a while.
Meanwhile, saute onion and garlic until fragrant and soft.
Add sliced lemongrass, ginger, turmeric, chilli, salt to taste and fish sauce. Stir for a little bit.
Add the water. Stir well.
Add chopped coriander. Stir well, cover the pan, continue cooking until sauce is reduce to half.
Add coconut milk, bring to boil. Turn off the heat.
Discard soaking water then squeeze the kale until the water runs out. Set aside.
Prepare several small heat resistant bowls, add cassava kale, follow with sliced salmon, and then the seasoning sauce.
Steam until cooked salmon approximately 20 minutes.
Serve with steamed rice or enjoy it as it is.
Note:
If you think that above recipe is too hard, I've got another option for you. Cook the salmon with the sauce, just add the raw salmon pieces right after you add the coconut milk in the sauce. Bring to boil until salmon cooked.
Place the leaves (after you squeeze the water out) into serving dish, and then dish the salmon on top of it. Last step is to pour the rest of the sauce on top.