Third Day in Tokyo – Japan Holiday Day 3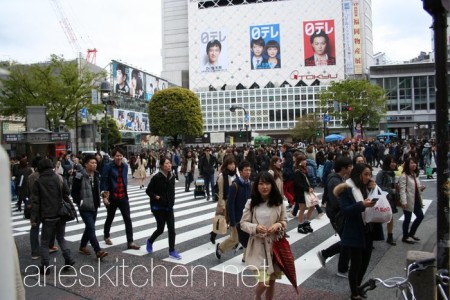 Third Day in Tokyo – Japan Holiday Day 3.
Western Tokyo.
The third day in Tokyo was rather relaxed. Somehow we both felt tired like lack of sleep. Perhaps because we ate too much the night before. Untuk versi bahasa kunjungi Hari Ketiga di Tokyo – Edisi Liburan di Jepang Day 3.
Anyhow, we left the hotel around 11:00 am. Our plan third day in Tokyo is to check out what's on Western Tokyo area. We had a list to visit places like Shibuya , Harajuku including the Meiji Shrine and Yoyogi Park. Sounds a lot for just one day, but lets see how it goes.
The train ride from Hanzomon station to Shibuya takes only about 16 minutes. The train was not busy at all as it has passed the rushed hour, thank God! I can't imagine how busy the train in Tokyo can be during rush hour. Gosh, thinking about it makes me feel very uncomfortable, not to mention that I'm rather short. So standing in the train hanging on to the straphangers or standees won't be so much fun for me.
Shibuya.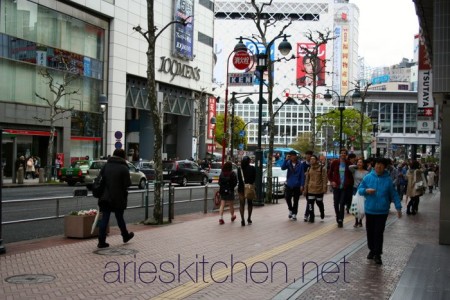 Shibuya is not only well known as a great shopping destination in Tokyo but also as a fashion centre, a great place to hang out during day time or checking out the nightlife and a place for the art industries. From cheap goods to branded stuff you'll find it there depending on what you are looking for. If you crazy about shopping, one full day would not be enough to check out the stores in Shibuya because of the number of stores that can be seen around. Big stores such as Marui (specialised in women and men's fashion), Parco, Loft (interior, hobby, crafts and gifts,), Seibu (mainly for fashion goods but they also have restaurant), Tokyu Hands (do-it-yourself, interior, hobby, crafts, outdoors, travel goods, stationery and more), Tokyu and Shibuya Hikari. Depending on how long you will be there or what you are looking for, this area has definitely got everything. You just need to know the place. For example if you looking for popular and trendy fashion, best to check out the 109 department store. Also the biggest shopping complex called Shibuya Mark City is definitely worth a visit too.
Shibuya is always crowded with people day and night, mostly with teenagers doing their shopping, heading to night clubs, or just hang out with friends. Center Gai is famous pedestrian zone in the area.
Love Hotels which offer couples with private room for 2 to 3 hours stay or longer are also famous in the area. These hotels also known as romance hotel, fashion hotel, leisure hotel, amusement hotel, couples hotel, and boutique hotel.
I remember now funny thing happened while we were exploring Shibuya area. We were approached by couple of television crew wanted to interview us about onsen (public bath). Thank God we have not visited the Onsen yet as we would not know what to say. I can only think that it would be awkward in a hot spring bath with no clothes on around bunch of strangers. Ok, let's not go there! It must be interesting for Japanese people to know what other people from outside Japan think about public hot spring bath.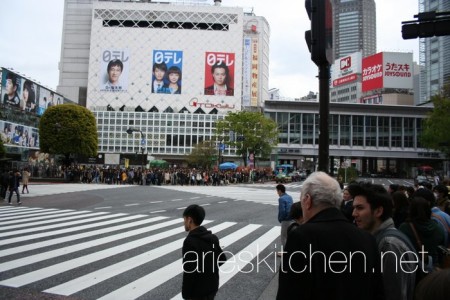 Shibuya Crossing. This scramble crossing is very famous in Tokyo because of the number of people using it every day. Many advertising signs and screens mounted on nearby buildings overlook the crossing. During the day time those screens are not as alive as at night time. I find that it can be too busy for my eyes and my brain sometimes. Too many things happening at the same time.
Lunch at Tokyu Department Store Shibuya.
It was already 12.35pm when my stomach starting to make loud noises. I felt super hungry. The starving dragon in my stomach doesn't want to wait anymore and all I can smell or think of is food! So we went to the nearest building that has restaurants in it, Tokyu Department Store.
Can't afford to wait any longer, we found this modern looking Japanese restaurant located at level 8 (please don't ask me the name of it as all in Japanese).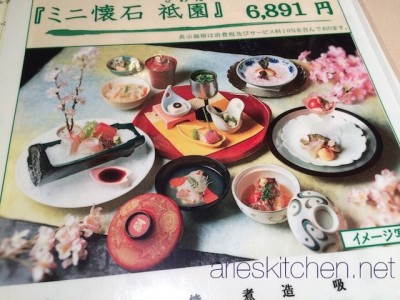 The pictures of the menu looked amazing and unique. As it was Cherry Blossom season, they adjusted the menu according to the season. Called Sakura (Cherry Blossom) set menu. Very clever!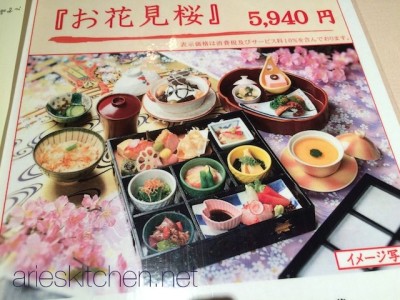 We then ordered two different sakura set menus and both look good.
The restaurant was very quiet, not because it was empty but more because Japanese people are very quiet when they eat in the proper restaurant. We can even see the sign/picture that the phone has to be muted and talking loudly on the phone is a big NO NO. My kind of restaurant actually! It shows that they have a great respect for the privacy of others. The wait staff even covered my handbag I put on the chair with a piece of cloth (not sure why they did that). But I can see that other people's belonging got covered too. I suppose it does make the restaurant looks less clattered. Hmmm… must be Japanese thing…
After about 15 minutes, our meals are coming.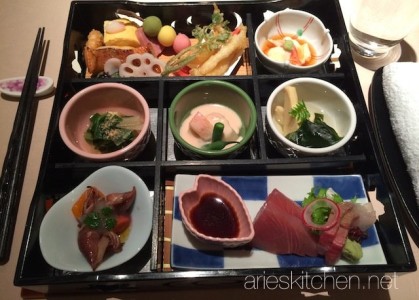 Sakura Bento.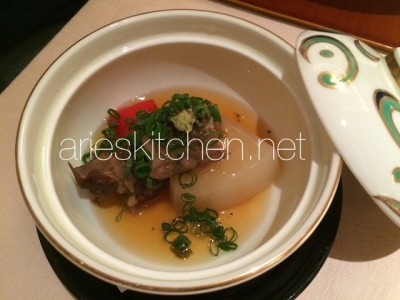 Not sure what this dish called (again, all in Japanese) but I can tell that this one is white radish and fish.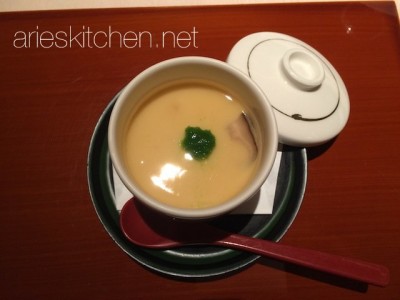 Chawan mushi ( steamed egg white with a mixture of chicken , shitake mushrooms and seaweed).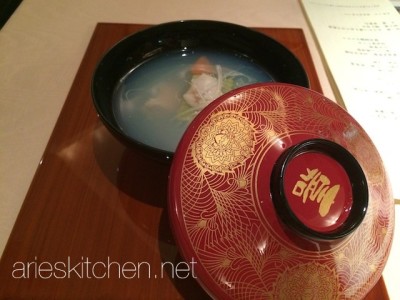 Fish Soup.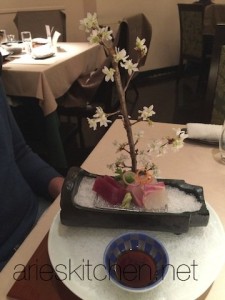 Fresh fish ( sashimi ) with real mini cherry blossoms plant.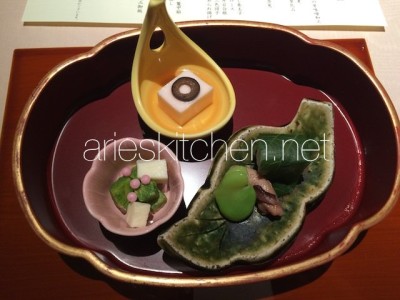 Soft Tofu.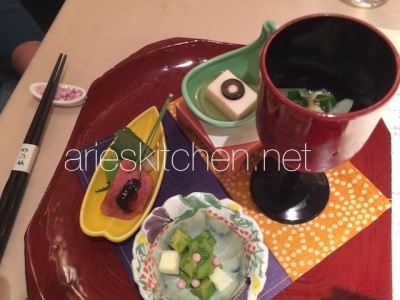 Other condiments.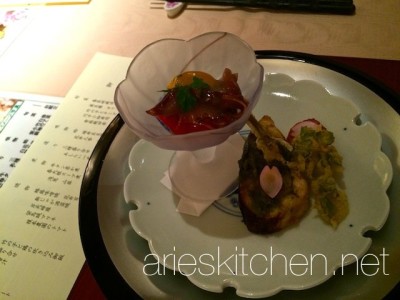 Fish.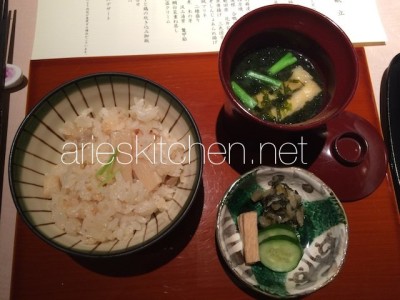 Rice and miso soup ( these foods always served at the end or before desert ).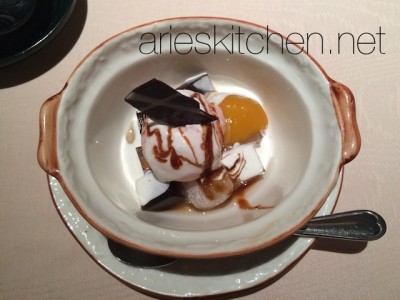 Japanese Style Ice Cream.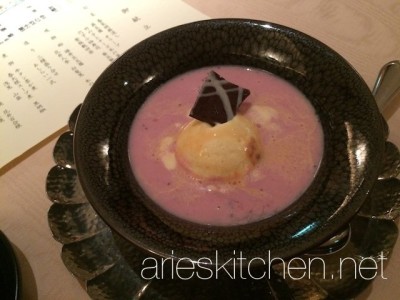 Japanese Style Desert.
Although we didn't know most the name of the foods we ate, at least we know the main ingredients used. Easy to spot the difference between chicken, fish and vegetables right! Most of them tasted good, although I found few things taste little bit strange to my taste buds.
Gochisosama deshita (thank you for the feast)!
Harajuku ( Takeshita Street ).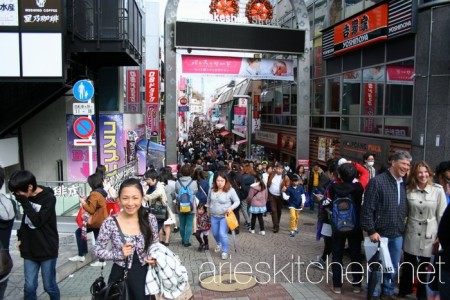 After exploring Shibuya area and with a full stomach, we took the train and headed to Harajuku. Which is famous with its Harajuku girl and home of shops that sell clothes and accessories, Harajuku style.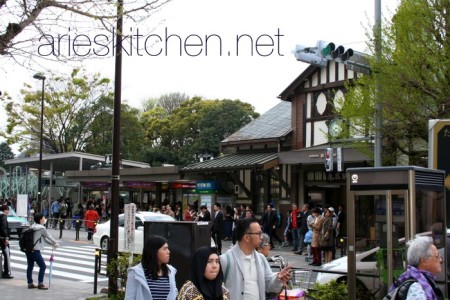 The train station in Harajuku looks different from other stations in Tokyo. The building have got more character and definitely non boring looking building.
Harajuku area was not as I imagined. Arguably somewhat disappointing (ouch…some part of me screaming that I'm getting old now!). Well, I was hoping to see plenty of Harajuku girl with their unique costume and make up. But I can hardly saw them. Only few and most of them are people from abroad. Hmmm…interesting!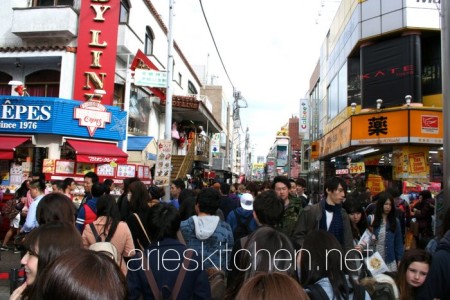 We walked along the main alley where lots of shop selling clothes, shoes and accessories or even restaurants located. To me it's not much different with walking around Factory Outlet in Bandung (Indonesia). The street was packed with visitors local and tourist as it was Saturday.
So, my conclusion is this place is not for me it's more for teenagers and parents that are have teenagers. Way too crowded for me and far from relaxing. But still good to visit at least once. Beside, I liked the GAP store located not too far from the train station where I bought lots of knit wear only for $20 each. It was during Golden Week, where the shops normally throw discounts up to 75%.
Yoyogi Park and Meiji Shrine.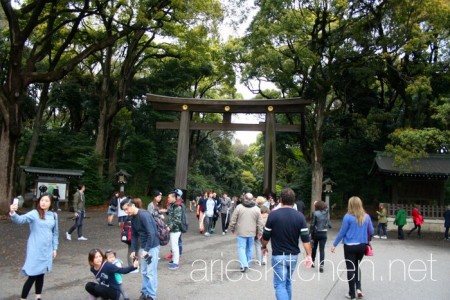 We walked across the bridge over the railway tracks to check out Yoyogi Park. Where Meiji shrine also located.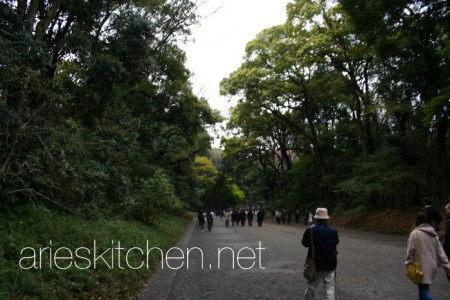 This Park is quite different from Chiyoda Park and Ueno Park. Looks more tropical on this side compared with both of them. As well as Chiyoda Park, the park is also used for jogging and other social activities such as picnics. But keep in mind, visitors are prohibited to use the tripod at the park entrance due to the number of visitors. Not only tropical trees, there is also an artificial pond and cherry trees in the other parts of this park. It is such a huge park and we were too tired to walk further to find out as we did lots of walking.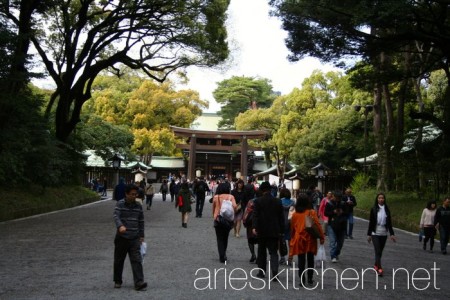 Meiji Shrine.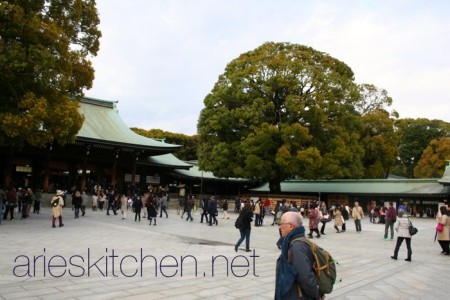 The place is always crowded with visitors both tourists and locals.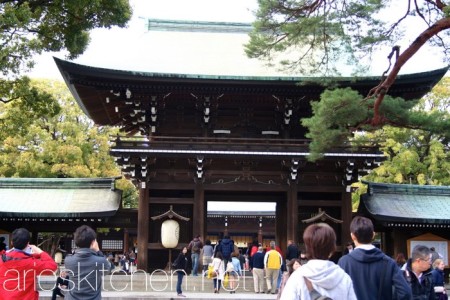 Located about 10 minutes walk from both entrances, this Shrine is still active and used to pray daily by locals or visitors. Taking photos inside the temple is prohibited.
Shinjuku.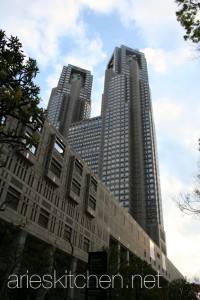 It was late afternoon by the time we finished checking out Yoyogi Park. On the way home, we stopped at Shinjuku to have a look at the Government Buildings in Tokyo. It wasn't on our plan but what the hell, it's not dark yet! From Shinjuku station we exited through the west door. We walked in the basement ( underground ) just a few minutes before finally reaching the Government Building.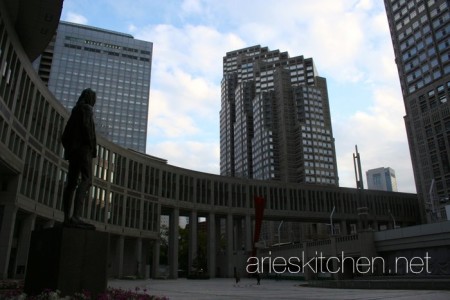 We looked around the building. The structure of the buildings reminds me of the Vatican City but much smaller. The statues located in front of the building looks very modern, doesn't look Japanese at all.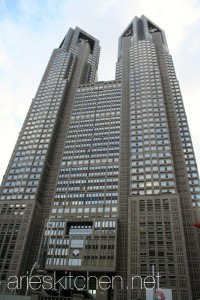 There are couple of staff making sure the number of people entering the building by standing in front of the lift. The queue wasn't bad at all I suppose because it was nearly at the end of the day. Visitors are allowed to go up to the level 45 to enjoy Tokyo city from above.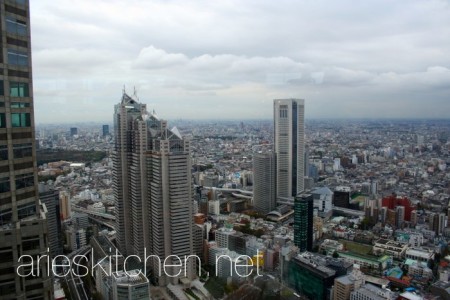 This is the view from level 45 government building in Shinjuku. We walked around to see the sight from a different angle.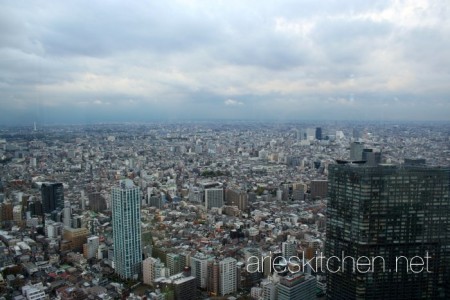 Photos from the other side.
Finished checking out the government building we went to Starbucks located only few hundreds meters from where we were for a coffee and just relax. The third day of our holiday in Japan was fun!
Thank you for visiting my blog. Please feel free to throw a comment or two if you have any questions about a vacation to Japan. Arigato !
Arie's Kitchen Travel Diary 11.04.2015.