Tom Yum Soup Recipe ala Arie's Kitchen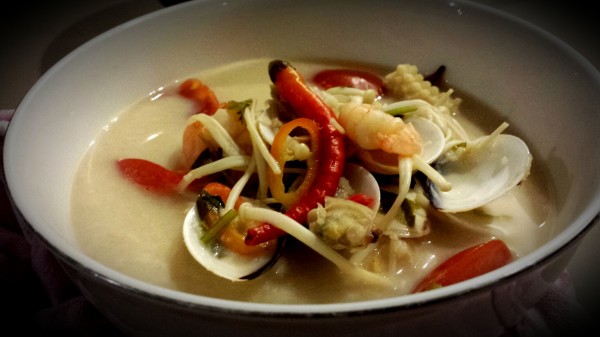 Tom Yum Soup Recipe ala Arie's Kitchen .
Untuk versi bahasa kunjungi Resep Tom Yum ala Dapur Arie.
Another Thai dish I made, taste as yummy as the one I ate at my favourite Thai restaurant in Victoria Park and boy….I can have 3 bowls no problem

What I like about Thai dish is mostly taste fresh and because I love kafir lime leaf and coriander/cilantro leaf very much, it's just make it perfect !
And as I promise yesterday, here's my recipe. This is a good idea when you plan for an Asian dish party as can be cater for 8 to 12 people. But if you only cook for 2 to 6 people, you can adjust the recipe by quarter, half, etc it's pretty easy

Note: The authentic Tom Yum Soup doesn't use coconut milk (Tom Kha).
Ingredients:
12 cups (3 litres) of chicken stock
800gr mix seafood, I use shrimp and squid (or you can add any other seafood of your choices)
1kg of fresh clams with shells
3 stalk lemongrass, bruised
6 kaffir lime leaves
10 cloves garlic, minced/crushed
3 tsp grated galangal
5 spicy chillies, chopped (leave the seed as it gives a nice kick)
15 to 20 whole red chilies (optional)
330 gr enoki mushroom, cut the bottom part (or button mushroom)
4 medium tomatoes, chopped
200 ml thick coconut milk
10 Tbs fish sauce
4 Tbs soy sauce
juice of 5 lime (or more depending the sourness you like)
3 tsp sugar
1 to 1.5 cup fresh coriander (cilantro), roughly chopped
Salt for a taste
400 gr rice vermicelli to serve
Method:
-Pour stock in a deep soup pot over medium-high heat, add lemongrass and lime leafs. Bring to a boil.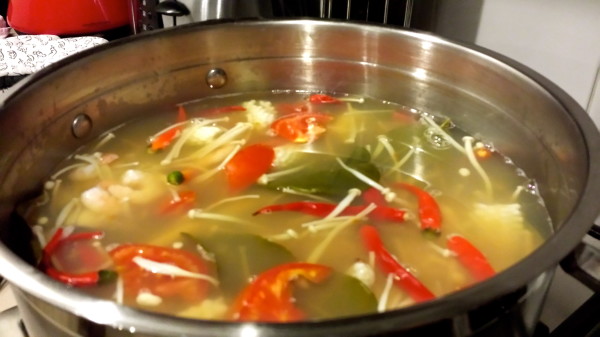 -Add garlic, galangal, chili, and mushrooms. Reduce heat to medium and simmer 2-3 minutes, or until mushrooms are soft.
-Add the shrimp, squid, clams and tomato. Simmer over medium heat 3-4 minutes, or until shrimp turns pink and clams have opened.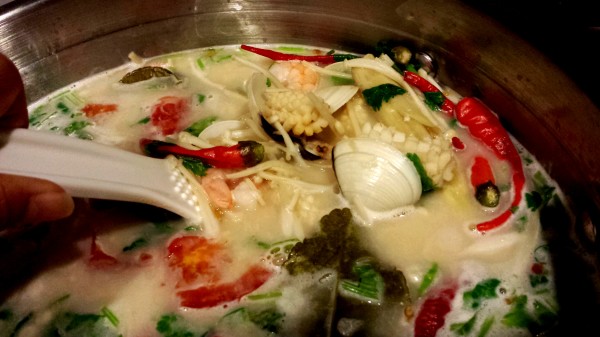 -Reduce heat to medium-low and add the coconut milk, fish sauce, soy sauce, lime juice, and sugar. Stir well to combine and gently simmer until hot (do not boil at this point). Turn off the heat.
-Put uncooked rice vermicelli in a bowl, pour boiled water into the bowl until all vermicelli covered, leave it until soften and then drain.
-Serve in bowls with cooked rice vermicelli noodles and sprinkle with fresh coriander. This time I forgotten to leave some for garnish as I was too excited

*serve 8 – 12*