Very traditional and delicious Turmeric Chicken Recipe!
This turmeric chicken often found in many traditional ceremonies in Java island. Normally served with Nasi Tumpeng (cone-shaped rice) used for ritual. Untuk versi bahasa kunjungi Resep Ayam Bumbu Kuning.
If you have ever been to Yogyakarta, there are so many traditional ceremonies happening in that area. This cone-shaped rice tastes really nice, cooked in coconut milk and a little bit of salt. Some of them are yellow (by adding turmeric) and some of them just white. Some used pandan leaves and some just plain. Serve with a few side dishes including this turmeric chicken, this whole food is definitely our favourite one!
If you visiting Yogyakarta, I suggested you stop by at Bale Raos Restaurant located within Yogyakarta Palace. They serve both yellow and white cone-shaped rice with delicious condiment.
Tips:
If you want a more practical, doubled the amount of the chicken and ingredients. After all cooked (before frying process) store the cooked chicken that has been stewed with the herbs and spices in the freezer. Move to a regular refrigerator the day before frying (or it can be de-frosted in the microwave). So you will have ready to go fried chicken stock if you guys don't feel like cooking. 

Turmeric Chicken Recipe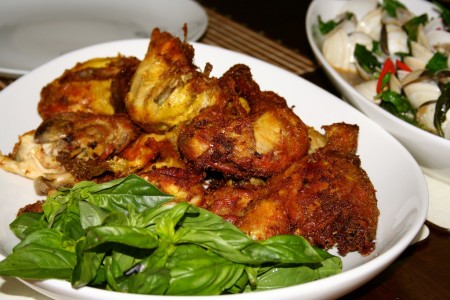 Ingredients:
2.3 kg of chicken, cut to your liking
3 bay leaves
3 stalks lemongrass, white part only, crushed
450 ml of water
Vegetables oil
Paste Ingredients:
7 macadamia nuts
1½ tsp coriander powder
12 cloves of garlic
3 cm turmeric, burn on stove until skin colour turn to slightly black (or use 1 tsp turmeric powder)
4 cm galangal, peel
4 cm ginger, peel
salt to taste
Cooking Instructions:
Marinate the chicken first in the lime juice, let stand for about 15 minutes.
Wash the chicken, and then drain.
Marinate the chicken pieces with spices / the paste, let stand for 2 hours.
Boil the water with the bay leaves and lemon grass.
Then add the chicken along with the marinade as well, cover the pan.
Cook over medium heat, until the water is low. Turn off the heat.
Fry the chicken in the hot oil until golden brown. (I recommend the chicken be left to cool before frying process, because the skin is more krispy).
Enjoy this turmeric fried chicken with steamed rice and fresh salad as basil, cucumber, tomatoes and sambal.

Thank you for visiting this site. Please leave a comment below if you like or have question about this turmeric chicken recipe. Thanks !