Very Easy Banana Bread Recipe
Simple and Easy Banana Bread Recipe.
As much as I love banana bread, I still refuse to pay $5.00 for each slice at the shop. Well, why should I spend the money if I can make one, especially using left over bananas at home right 😉 Untuk versi bahasa silahkan kunjungi Resep Banana Bread (Roti Pisang).
I have to admit that this easy banana recipe is not as fancy as my Easy Banana and Almond Cake Recipe. But I like the easy-ness and the simpleness of this bread. And for healthier option, you can use the fresh skim milk rather than full cream. The amount of butter can be reduced up to half amount too and still tastes as good.
More variety of my banana bread/cake, please check out Banana Bread with Walnuts Recipe.

Very Easy Banana Bread Recipe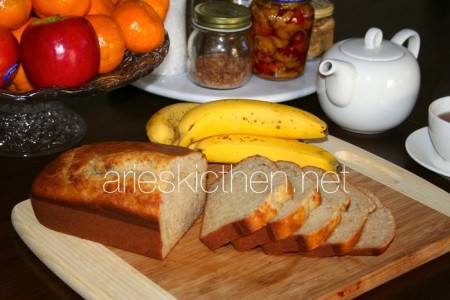 Ingredients:
2 - 3 overripe medium bananas, mashed
2 eggs, lightly whisked
1¾ cups self-raising flour
¼ cup plain flour
1 teaspoon ground cinnamon
⅔ cup, firmly packed brown sugar (you can replace with caster sugar)
½ cup of fresh milk
100 gr butter, melted, cooled
1 tsp spread, to grease
What you need:
Loaf pan size 11 x 21 cm
Cooking wire rack
Cooking Instructions:
Preheat the oven to 180°C.
Brush the loaf pan with dairy spread to lightly grease.
Combined self raising flour, plain flour and cinnamon into a large bowl.
Stir in the sugar and make a hole in the centre.
Place the lightly whisked eggs, milk, melted butter and mashed banana in a medium bowl, and stir until well combined.
Add the banana mixture to the flour mixture and stir until well mixed.
Spoon the mixture into the prepared loaf pan.
Bake in preheated oven for 45-50 minutes or until a skewer inserted into the centre comes out clean.
Remove banana bread from oven and set aside in the pan for 5 minutes.
Turn onto a wire rack to cool completely.
Cut into slices to serve.

Please leave comments below if you like or have any question about easy banana bread recipe above. Thanks.