Yummy Chilli Mussels Recipe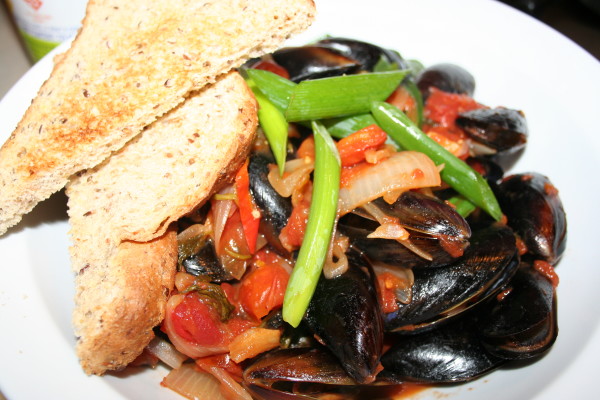 Yummy Chilli Mussels Recipe.
Definitely our old time favourite ! Untuk versi Bahasa kunjungi Resep Kerang Pedas Manis.

Yummy Chilli Mussels Recipe

Ingredients:
1 kg mussels, cleaned
3 red chillies, slice thinly
3 cm ginger, slice thinly
2 big french onion/shallot, slice thinly
1 medium onion, slice into big chunk
10 cherry tomatoes, cut in half
5 garlic clove, slice thinly
2 spring onion, cut approx 3 cm long
½ cup of chopped coriander leafs
1 tbs olive oil
Sauce (mix together):
400 gr can chopped tomatoes
2 tbs brown sugar
2 tbs sweet chilli sauce
2 tbs hoisin sauce
2 tbs fish sauce
2 tbs apple cider vinegar (or any vinegar)
Cooking Instructions:
Saute garlic, ginger, chilli, shallot, onion until come out beautiful fragrant.
Put the sauce mix in, stir well. Leave it boil.
Put the coriander leaf and cherry tomatoes in, stir well.
Put the mussels in and stir well.
Stir until all get the sauce. Cook further for 8 to 10 minutes.
Put the spring onion in, stir. Ready to serve.
Serving Suggestion:
You can serve with bread to clean up the yummy sauce :)