Beef Fajitas Recipe ala Arie's Kitchen.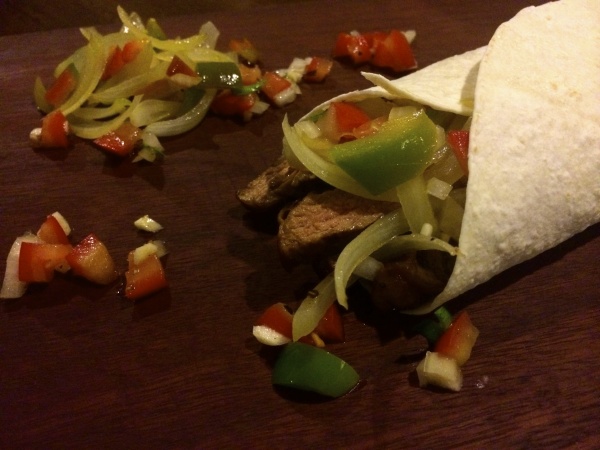 My first experience with Mexican food was more than 10 years ago. I sang at a famous mexican restaurant in Kemang, South Jakarta called Amigos. The restaurant which was located next to the expatriate housing Villa Kemang was always full with customers. No doubt, the food was really nice including the fajitas. The way they served fajitas was quiet fascinating. The sliced meat was served on hot sizzling plate together with sliced onion and capsicum. Served with salsa and guacamole. Super delicious. Untuk versi bahasa kunjungi Resep Cara Membuat Fajitas Daging Sapi.
Ps: you can replace the beef with chicken.
Beef Fajitas Recipe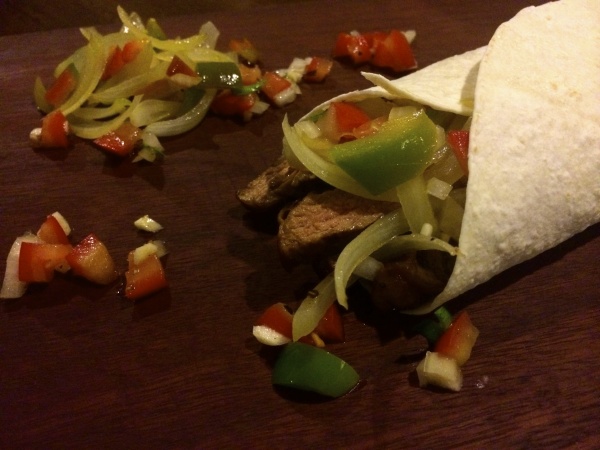 Ingredients:
2 pieces of scotch fillet steak or other cut ( about 450 grams for both)
2 tablespoons olive oil
2 tbsp lemon juice
2 tbsp honey
½ tsp dried oregano leaves
salt to taste
4 pieces of tortilla / pita bread medium size
Salsa Ingredients :
2 medium tomatoes, diced, chopped into small dices
2 tablespoons minced onion
1 clove garlic , minced
1 tbsp chopped coriander leaves
3 tbsp lemon juice
1 tbsp olive oil
½ tsp cracked black pepper
Salt for a taste
Mix Vegetables Ingredients :
1 tbsp olive oil
1 medium onion, cut lengthwise
1 green small been capsicum, cut into small pieces
Salt for taste
Cooking Instructions:
Mix into a bowl 2 tablespoons olive oil, 2 tablespoons lemon juice, 2 tablespoons honey, oregano leaves and salt and stir well.
Add the steaks, mix well with the sauce. Marinate for about 30 minutes.
While the meat is cooking, mix all the salsa ingredients in a bowl and stir well. keep in the refrigerator .
Heat 1 tbsp of olive oil in a frying pan, saute sliced onions and peppers until half cooked, add salt to taste. Remove and set aside.
Cook the steaks as desired (medium, medium well or well one).
Heat the tortilla / pita bread by folding them and wrapping in aluminium foil and then put in the hot oven for 10 minutes. Or use the easy way by heating them up on top of the frying pan on the stove.
Slice the steaks lengthwise.
Serving suggestions :
Put 1 sheet tortilla / pita bread on a plate.
Set meat on the tortilla / pita bread .
Add Salsa and mixed vegetables.
Fold the tortilla / pita bread as shown on picture.
Enjoy Fajitas by hand.