Easy Almond Cake Recipe.
Before I made this easy almond cake recipe, I've always wondered how to bake properly. As every time I try to bake the cake turned up not so good. So I haven't baked for so long. My style of cooking is very flexible unlike making a cake where the measurement has to be precise. Until one day I saw 5 different colours of ramekins that catches my eyes at the shop and I can help but buy a set of each colour. Hm..hm…..I have to admit that window shopping is never a good idea for me

.
Untuk versi bahasa kunjungi Resep Kue Almond Jeruk.
Anyhow, before I'm getting in trouble for spending money on kitchenware that I haven't even had a plan for it, I'd better do something about it. So here we go….I came up with easy recipe that goes in my new ramekins.
Oh, if you like super easy dessert, check out my other dessert Apple Crumble.

Easy Almond Cake Recipe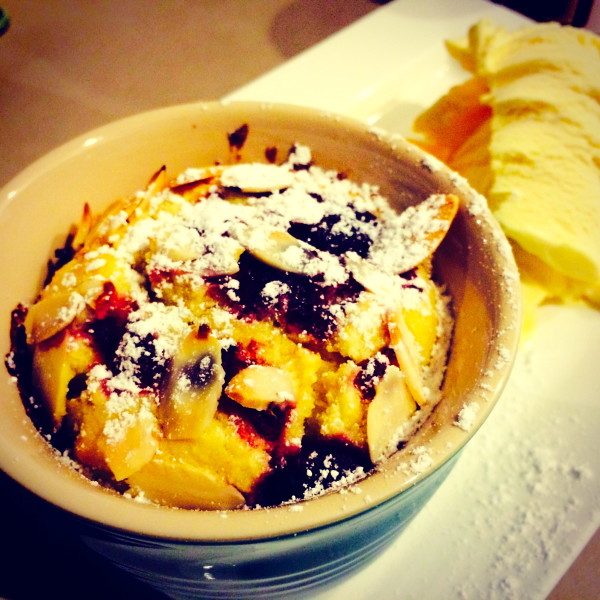 Ingredients:
150gr soft butter (room temperature)
3 big egg or 4 small one, lightly beaten
¾ cup caster sugar
1 cup of flour
3 full tbsp orange zest
1½ cups almond meal
¾ cup thick vanilla custard
½ cup frozen berries (raspberries or strawberries)
⅓ cup almond flakes
Icing sugar for serving
Cream or vanilla ice cream for serving
Cooking Instructions:
Heat the oven 180°C normal.
Prepare 10 medium size ramekin, spray the inside part with canola oil.
Using hand mixer, mix caster sugar and butter until well mixed.
Add the egg gradually, continue mixing until all mixed well and the colour slightly change to lighter colour. Turn off the mixer.
Using spatula, mix in the almond meal, flour, lemon zest and vanilla custard gradually until well mixed.
Add the almond meal mixture equally into the ramekin.
Add enough frozen raspberries or strawberries into the mixture (push right in).
Sprinkle almond flakes on top of each ramekin.
Bake for 30 to 45 minutes or until the cake is golden brown on top.Turn off the oven.
Serve the almond and orange cake with cream or vanilla ice cream or can be both :) .
Remember to sprinkle iring sugar on top just before serving.
Notes
If you do not have ramekins you can use normal baking dish and just cut them up before serving.
You can add pistachio nuts to replace the berries if you like. And the taste is just divine too.