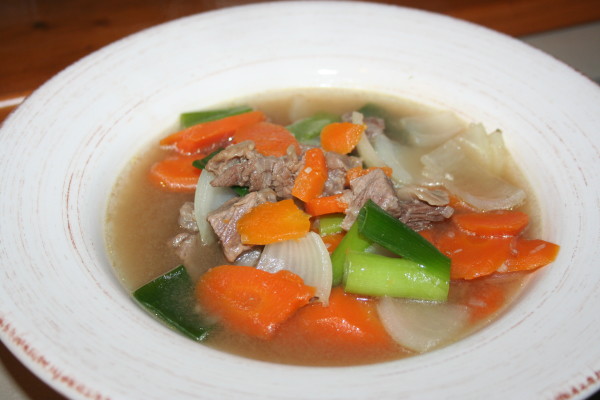 Easy Beef Soup Recipe.
Simple and very easy to make, this easy beef soup recipe is comes from my mum. Untuk versi bahasa kunjungi Resep Cara Membuat Sup Daging Sapi Enak Mudah.
Easy Beef Soup Recipe

Ingredients:
600 gr beef – I use scotch fillet,diced
1 small brown onion, cut into big chunk
5 garlic clove, slice thinly
2 spring onion, slice
5 small carrot, slice
2 shallot/French onion, slice thinly
1 tsp cracked black pepper
Fried shallot for garnish
Salt
1 tsp vegetable powder stock - optional
Cooking Instructions:
Heat oil in a pan, sautee shallot and garlic until soft.
Add carrot and pepper, stir for about 1 minute.
Add meat, stir until little bit brown.
Add 7 cups of water, bring to boil, cook until the meat tender.
Add salt and and veggies stock.
Add slice onion and spring onion, stir for about 1 minute, ready to serve.