Easy Spaghetti Bolognese Recipe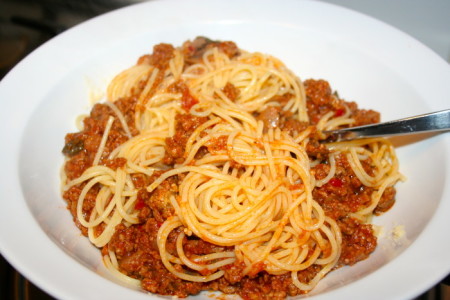 Easy Spaghetti Bolognese Recipe.
Untuk versi bahasa kunjungi  Resep Cara Membuat Spaghetti Bolognese Enak dan Mudah.

Easy Spaghetti Bolognese Recipe

Ingredients:
500 gr spaghetti
500 gr lean mince beef
1 onion, finely chopped
4 clove garlic, finely chopped
700gr spaghetti sauce/tomato puree
½ green capsicum, finely chopped
½ red capsicum, finely chopped
1 big carrot, chopped
2 celery, finely chopped
1 cup beef stock/water
3 tbs cooking oil
5 tbs tomato ketchup
1 tsp dried oregano
Salt and pepper
Parmesan cheese for garnish
Cooking Instructions:
Heat oil in a medium pot, add onion and garlic, saute until soft.
Add:capsicums, carrot, celery, and dried oregano, stir for about 3 minutes.
Add minced beef, cook the beef until it's brown, stirring constantly to break lump.
Add: pasta sauce, tomato sauce, stock/water, salt and pepper, bring to boil until beef is cooked and liquid reduced to your liking.
Cook the spaghetti.
Serve spaghetti with the sauce and parmesan cheese.