Kale Pumpkin Salad Recipe
How to Make an Easy and Yummy Kale Pumpkin Salad Recipe.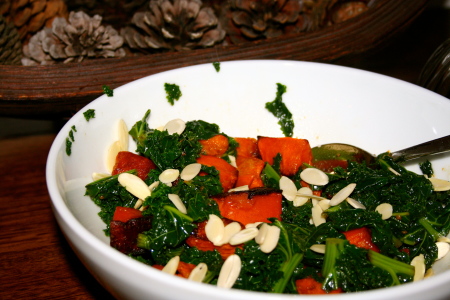 I didn't grow up with this veggies, it's all pretty new to me. But now I'm a passionate lover of this vegetable. In the morning I often make omelette with organic kale. The other morning I just sautéed this dark green veggies with salt and pepper to accompany my bacon and egg. So simple, so delicious and so healthy. Resep versi Bahasa ada di bagian bawah halaman ini atau bisa di klik disini.
Another good thing about kale is that it's holds up when it cooks, it doesn't get soggy and mushy easily like spinach. Kale definitely stay crisps longer.
So, are you ready to give it a go?

Kale Pumpkin Salad Recipe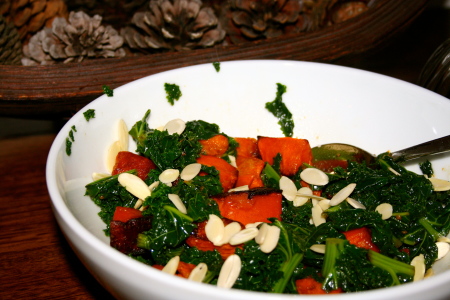 Ingredients:
450gr pumpkin (pumpkin), peeled, sliced and diced
1 bunch of kale leaves (about 250gr), washed and cut into pieces according to taste
3 tablespoons olive oil
¼ teaspoon salt
A handful of almonds are thinly sliced (almond flakes)
For Sauce Ingredients:
3 tablespoons maple syrup
5 tablespoons balsamic vinegar (balsamic vinegar)
2 tablespoons extra virgin olive oil
Mix all the sauce ingredients until smooth
Cooking Instructions:
Bake the pumpkin in the oven until soft and the colour slightly browned.
Meanwhile, boil water in a saucepan with little bit of salt.
Add kale leaves, cook until the color changes. Approximately 4-5 minutes (do not boil it too long let the leaves remain green color and the texture still crunchy).
Discard the water. Make sure that the water is completely gone, use spatula if needs to to help to drain the water)
Using a large bowl, put the kale leaves.
Add the sauce and stir well.
Add pumpkin roast, stir slowly.
Place the salad on a serving plate.
Sprinkle with almond flakes.
This salad can be enjoyed simply as it is or with grilled fish.
Resep Cara Membuat Salad Daun Kale.
Siapa yang nggak suka makanan sehat yang memiliki rasa sedap? Resep Cara Membuat Salad Daun Kale dan Labu Kuning ini saya kategorikan resep bagus untuk diet. Apalagi kalau pola makan kita less healthy. Mengandung banyak lemak misalnya, baik lemak nabati maupun hewani. Maka menu yang ini bagus sekali untuk menetralisir lemak-lemak tersebut.
Sekitar 6 tahun yang lalu kolesterol saya sangat tinggi, hingga dokter saya menyarankan saya untuk mengkonsumsi obat sampai kolesterol saya turun. Karena saya orangnya paling enggan minum obar-obatan yang mendandung bahan kimia alias nggak alami, saya minta ke dokter untuk memberikan alternative lain. Yang akhirnya saya disarankan untuk mengkonsumsi makanan yang cara memasaknya lebih sehat seperti salad, sayur bening, dan lain-lain. Pada dasarnya, makan yang berlemak boleh-boleh saja asal moderasi. Atau nggak terlalu banyak. Misalnya makan sate kambing 3 kali seminggu atau makan sop buntut setiap hari. Hal seperti itu sangatlah tidak dianjurkan. Untungnya setelah makan banyak sayur, buah-buahan, kacang-kacangan dan ikan salmon, sekarang kolesterol saya normal. Btw, kolesterol ternyata tidak bisa dilihat dengan kasat mata. Maksud saya, dulu banyak orang berfikir kalau orang gemuk pasti mereka memiliki kolesterol yang tinggi. Itu tidak seratus persen benar, karena waktu kolesterol saya tinggi, berat badan saya hanya 40kg.
Berikut menu makanan lain yang bisa membantu menurunkan kolesterol. Diantaranya Salad Buah Delima, Ikan Salmon, Ikan Salmon Panggang, makanan yang menggunakan bahan Alpukat, Tomat, dan lain-lain.
Selamat mencoba !!!
Bahan yang dibutuhkan:
450gr labu kuning (pumpkin), kupas, lalu iris-iris dadu
1 ikat daun kale (kira-kira 250gr), cuci lalu potong-potong sesuai selera
3 sdm minyak zaitun
1/4 sdt garam
Segenggam kacang almond yang diiris tipis-tipis (almond flakes)
Untuk Bahan Saus:
3 sdm maple syrup
5 sdm balsamic vinegar (cuka balsamic)
2 sdm minyak zaitun extra virgin
Campur semua bahan saus sampai rata
Cara Membuat:
Panggang irisan labu kuning di oven sampai matang dan warna kuning sedikit kecoklatan.
Sementara itu didihkan air di panci bersama garam, rebus daun kale sampai warna berubah. Kira-kira 4 – 5 menit (jangan terlalu lama merebusnya biar warna daun tetap hijau dan teksturnya crunchy). Buang airnya.
Siram air dinging, lalu peras sampai air benar-benar habis.
Dengan menggunakan mangkuk besar, masukkan daun kale yang sudah diperas.
Tambahkan saus, aduk rata.
Tambahkan labu kuning panggang, aduk pelan-pelan.
Hidangkan di piring saji.
Taburi dengan almond flakes.
Salad ini bisa dinikmati begitu saja atau bisa juga sebagai teman hidang menu lain terutama berbagai steak, roast ataupun ikan panggang.