My Yummy Mango Salad Recipe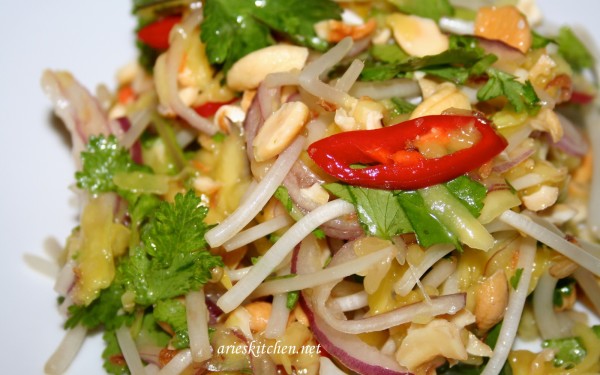 My Yummy Mango Salad Recipe.
Untuk versi bahasa silahkan kunjungi Resep Salad Mangga.
This is what happen when I try to avoid the house work. Pretending to clean up my fridge and "accidentally" found mangoes 😀
My excuse is that it is lunch time now and I got to make something, right. So I grated couple of firm mangoes mix with other ingredients. Add cooked chicken or shrimp/prawn if you like or just leave it as it is. This would be awesome for summer dish.

My Yummy Mango Salad Recipe

Ingredients:
2 firm mango (about 500 gr) peel, grate the flesh part only.
120gr (2 cup) clean bean sprout
½ cup chopped coriander
1 red chilli, sliced
¼ small red onion, thinly sliced
½ cup peanut/cashew nut, roughly grounded
1 tsp fried shallot
Salad Dressing:
4 tbs fish sauce
3 tbs freshly squeeze lime
(If the mango too sour, add 1 tbs honey)
Mix salad dressing ingredients well.
Cooking Instructions:
In a bowl, add grated mango, bean sprout, red onion, coriander leaf, chilli gently mix well.
Add salad dressing, cashew/peanut and fried shallot mix well.