New Years Eve in My Hometown Tulungagung

New Years Eve in My Hometown Tulungagung.
Untuk versi bahasa kunjungi Malam Tahun Baru di Kampung Halaman Tulungagung.
New Years Eve 2014 was one of so many amazing moments in my life. It was very special to me because I haven't spent new years eve with my family since I moved to Jakarta in 1997. I had planned this event a few months back as I knew I'm going to be in Indonesia from boxing day until mid January. And as soon as I let everyone in my hometown know, they got really excited and started throwing some ideas of what we are going to do.  We decided to buy one goat, a few chickens, crabs and fish for a barbecue, well a satay really

Oh, and don't be surprised we don't need licence to kill goats or even cows in my hometown.
The preparations seemed ok in the morning, we didn't really need much stuff, thats what I thought anyway. As long as we've got fire, meat cut up, snacks, some cakes and drinks, all should be ok. Well, not until my mum mentioned who's going to cook the gulai/curry, the satay, who's going to make the sauce, who's in charge in preparing the fresh fish, etc……OH !!!!!. Well I thought that everyone can cook their own but obviously it's not practical according to my mum. So mum's initiative was to hire the satay expert to make the sauce and cook the satay (a neighbour s selling satay in my hometown who makes very yummy satay sauce). DONE !!! Whew…..good thinking, mum


Oh and I've got really excited !!! I have introduced people in my hometown to fruit punch and they seems to like it especially the kids. Woohoo…winner \0/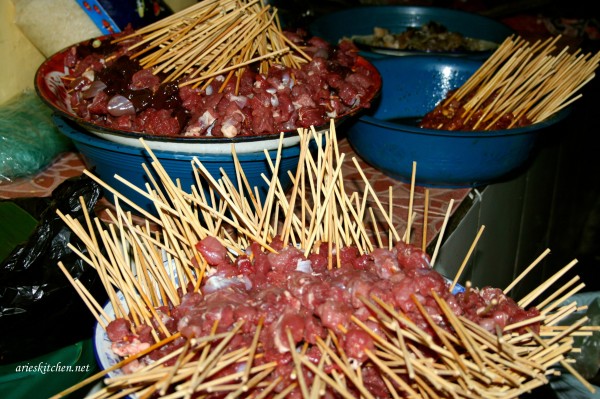 Goat satay preparation

(Have you seen that much satay before ?) It's not something that I'm unfamiliar with as my mum's stool in the market is near the satay seller. I can even remember from my childhood the smells of meat burning from the satay place. Smells so good especially during rainy season….ooooh, where has the time gone ?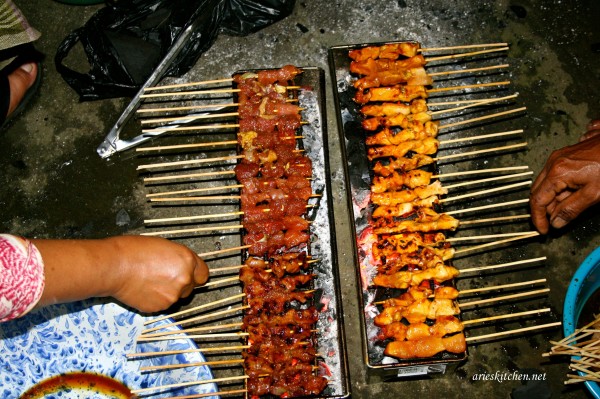 Above is the way we mainly cook satay in Indonesia unless in a five stars hotel or big restaurant which might have proper equipment. It is better now though, many people use an electric fan, before we just used a traditional fan. Yes, you will need massage after that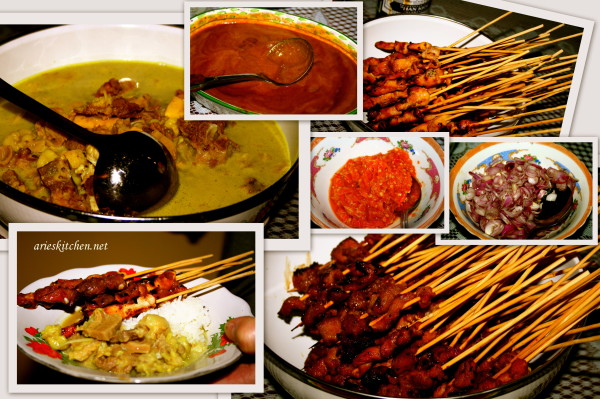 AHA….!!! Food ready to be served

Looking yummy isn't it ? The peanut sauce was made from fresh peanut not in a jar like the one I use most of the time. The taste is absolutely divine and I miss all of this freshly made food when I'm away.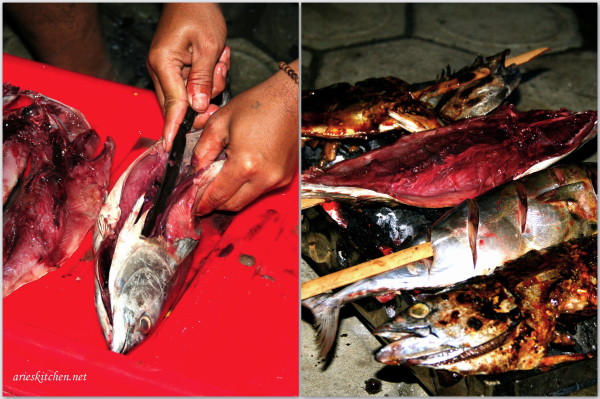 We cook the fish separately as it arrived later on.  Mas Arik fishing especially for us, which made us felt very very special. Thank you


My hometown is only about 30 km from the coast line, we don't really have a sandy nice beach but more than enough for fisherman to live and support their family.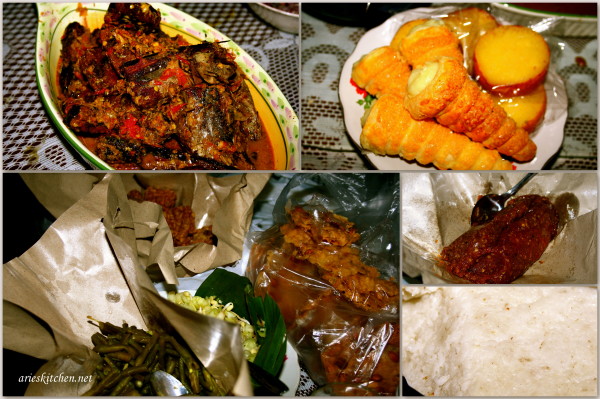 Also huge thank you for the food my fiends brought for the night. They all are my favourite, pindang tongkol (mackerel),  some desert, punten pecel (rice cake with veggies and peanut sauce) and other condiments. Thank you soooooooooo much <3 <3 <3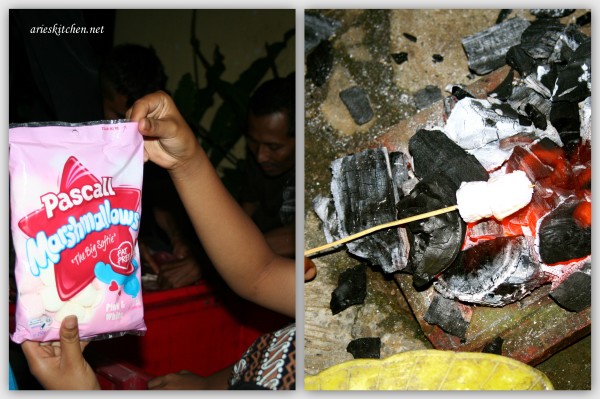 And…..I'm sure you know what that is, yes, marshmallows! First time for the kids in my hometown to have marshmallows. How cute is that ? When I'm back to my hometown I always cook some western food for my family, not a lot but enough for them to have a taste and understand the differences between Asian cooking and Western cooking especially the ingredients and way of cooking. This trip I made spaghetti Bolognese and mushroom pasta with white sauce (lots of cheese)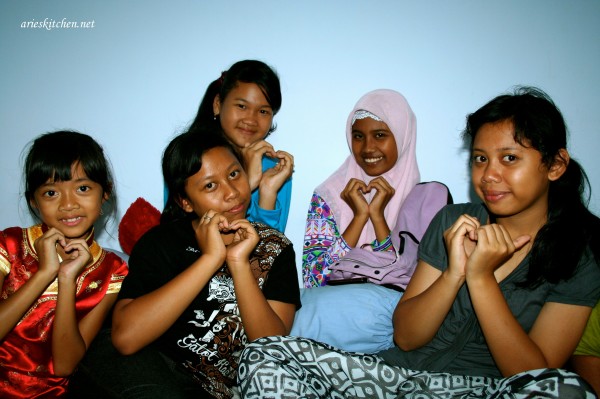 We all managed to stay up until new Year. We watched the fire works in town from upstairs and said Happy New Year 2014 (Selamat Tahun Baru 2014) to each other. It was beautiful feeling….! The girls had been practicing to say I love you in Korean with the right gesture "saranghaeyo"…..<3 <3 <3
Thanks to Mas Pras, mbak Kati, Minthil, Iwan, Peni, Titin, and many others for making this happening <3 <3 <3
"Happiness is a journey, not a destination" ~ Ben Sweetland ~