Ocean View Restaurant in Perth The Blue Duck
Which ocean view restaurant in Perth is your favourite ?
I can't believe it we've been living in Perth, Australia more than six years now. Nevertheless we have only been to this cafe late last year. Three times within two weeks. The first time was catching up with a friend, second time was our friend's birthday and the third one was my work Christmas Party. Yes, I feel very spoilt. We love this restaurant, consistent great tasting food, nice presentation, and the service was very satisfying. Not to mention that they allowed us to do split billing 😉 Untuk versi bahasa kunjungi Restaurant Pinggir Pantai di Perth, The blue Duck.
Here's some of the delicious food they've served. Warning! You might drool when you see some of the food pictures.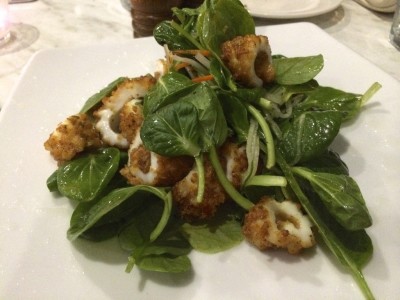 Salt & pepper squid – serve with salad and Thai dressing. Cost $ 19.
This fried squid salad served with Thai-style sauce. It tasted good, fresh and just enough for a main dish if you want something light.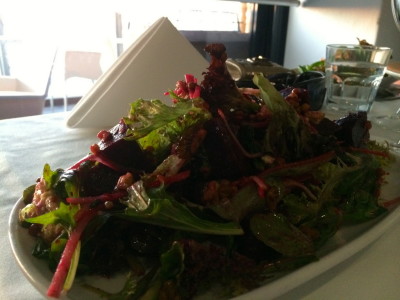 Beetroot cured salmon – served with  mixed leaves, double brie, wholegrain. Cost $ 17 (GF)
A mixture of several kinds of green leafs served with beetroot, double brie cheese, walnuts with mustard sauce. The taste is kind of sweet, savory, slightly sour, definitely one of yummy and very comforting dish. The portion is fairly large so it can be shared for two to four people as a side dish.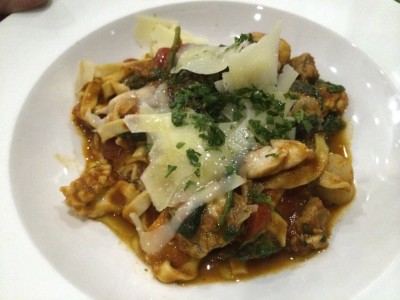 Seafood tagliatelle – prawns, squid, fish, scallop served in tomato chilli sumo. Cost $ 29.
Typical Italian dish made of shrimp, squid, fish, mussels served in a tomato sauce chili sugo. Sugo generally means sauce (such as for pasta, or tomato sauce), but also can be interpreted as the "juice" that watered over the meat. Nice.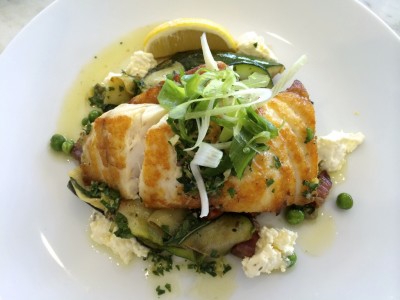 Pan-fried gold band snapper – served with grilled zucchini, peas, fetta, pine nuts, salsa verde, crispy pancetta. Cost $ 37 (GF)
Served with grilled zucchini, snow peas boiled, fetta cheese, pine nuts, salsa verde, and crispy pancetta. This dish is definitely my favourite meal here. The fish texture is so soft, tasty, super noms! I recommended this dish if you like seafood.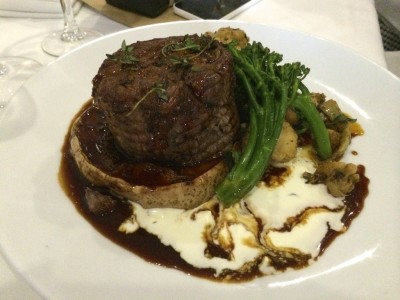 Slow roasted lamb shoulder – Moroccan cauliflower, roasted pumpkin, whipped goat's cheese. Cost $ 29 (GF).
This dish is served with Moroccan cauliflower, grilled yellow squash, roasted pumpkin with goat cheese sauce. It was indeed remarkable. The meat is very tender yet not dry. Delicious!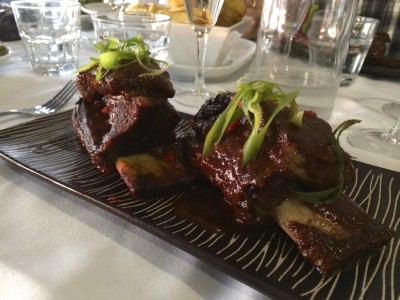 BBQ beef ribs – Braised BBQ short beef ribs. Cost $ 26 (GF).
This grilled beef ribs is one of my husband's favourite dishes. The texture of the meat is tender, mixed with sticky BBQ sauce just perfect. If you are hungry, this food is the answer. Order one of the salad dishes to accompany the beef ribs.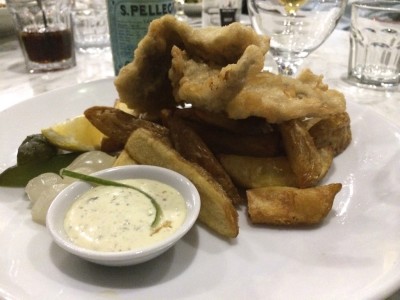 Cone Bay barramundi – Beer battered with hand cut chips, tartare sauce. Cost $ 32.
Baramundi fish coated with flour and beer served with fries and tartar sauce. For me this dish is just like fish and chips. Not my favourite but taste ok.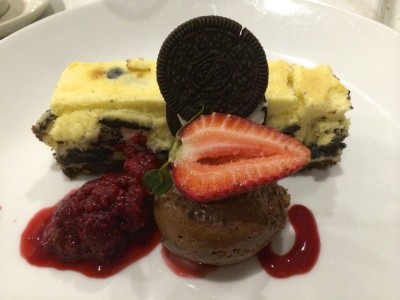 Baked Oreo cheesecake – dark chocolate cream, raspberry compote. Cost $ 14.
Served in a perfect size, this desert menu is made of dark chocolate cream, raspberry compote, oreo biscuits and ice cream.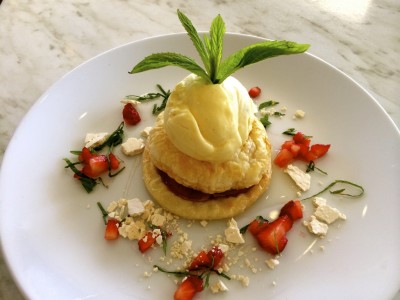 Char-grilled peach tart – crushed meringue, peach ice-cream. Cost $ 14.
Oh my oh my !!! This is clearly my favourite (don't ask me how many favourite foods I have from this restaurant, too many lol). Flakes meringue, peach fruit cake served with peach ice-cream and strawberry pieces.
Overall, I highly recommend this cafe.