Omah Batik Sendang – Sigit's Handmade Batik Collections

Omah Batik Sendang – Sigit's Handmade Batik Collections .
Untuk versi bahasa silahkan kunjungi Omah Batik Sendang Batik Tulis Karya Mas Sigit Suseno.
Sigit's handmade batik creations have been sold to Canada, Australia, Germany, Thailand, Malaysia and locally. University students from various countries such as Australia and USA have come to learn his batik patterns and Javanese culture including language and music. He is very low profile and nice to talk to, always throwing in funny jokes but don't be surprised when you discover that he is a very disciplined person at the same time. His mission to keep the Javanese culture alive and integrate it with the modern era and lifestyle is an amazing life mission. A very challenging mission but with his persistence and hard work I believe he can make it, there is no doubt in my mind on that

I have known mas Sigit for many years. His parents live less than two kilometres from my parent's house. After he finished high school he studied financial management at STIE (Sekolah Tinggi Ilmu Ekonomi) Malangkucecwara, in Malang and graduated in 1996. Following his passions in 2004, he started to learn batik autodidact (self taught) from old batik patterns given by his family. Pretty much the same year he created "Omah Batik" ("Batik House" in english) and has been creating amazing batik patterns ever since including a batik skirt for my own wedding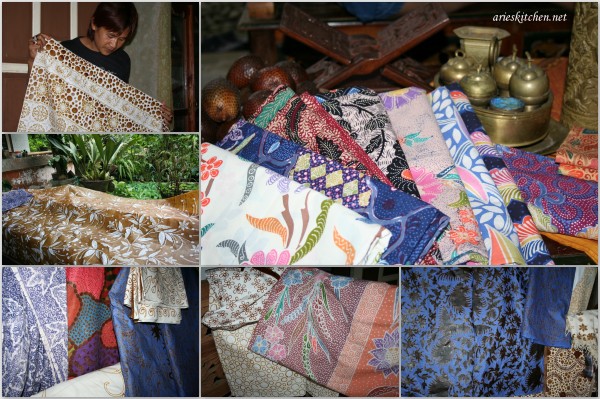 Check out his master pieces above, tell me if you are not drooling. I want them all


His batik creations cover all styles, classic, modern, contemporary you name it.  Whatever your request is, he will happily make it for you.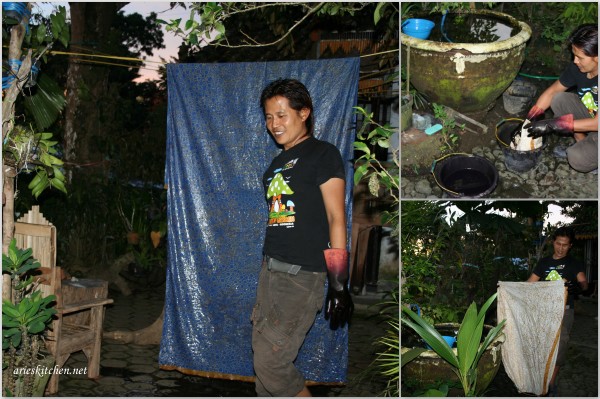 I felt privileged that mas Sigit showed us the colouring process.  He brought out all his equipment in front of his house so we can see the process clearly. For each colour he creates an unique pattern on the cloth, first with hand drawn candle wax. Then to dye the fabric he puts natural colouring (from plants) into a bucket and adds hot water, dips the fabric with the wax pattern in and out. And voila, from white colour to blue just like magic. You can request whichever colours you would like and even plan the details, but keep in mind the more colour you ask for, the longer it takes as he has to do the colour details separately using a little brush. It's an art.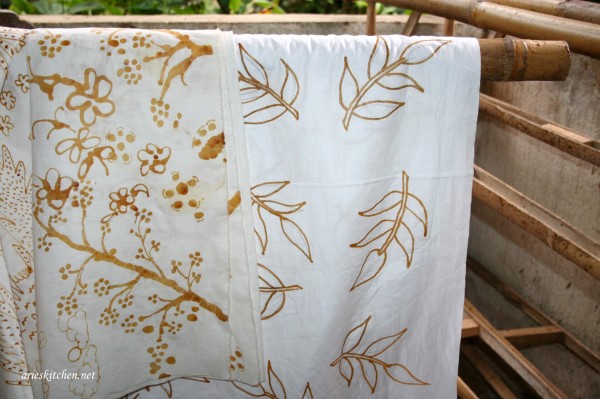 These two pieces are my favourites, it's not finished yet but for some reason the little flowers draw my attention.  This is just the start of the wax pattern which he will complete before any dyeing. I can imagine what it looks like when they are finished. Beautiful.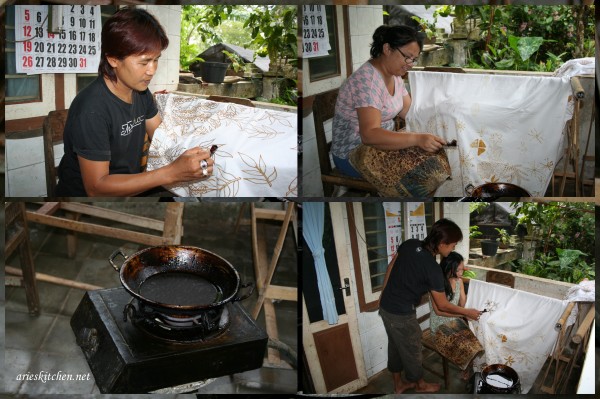 Yes, he prepared the pattern and melted the candle wax for us to give it a try. My friend Jo did really really well. Me…I spilled candle on the fabric so you can tell that it may take a long time for me to get it 😀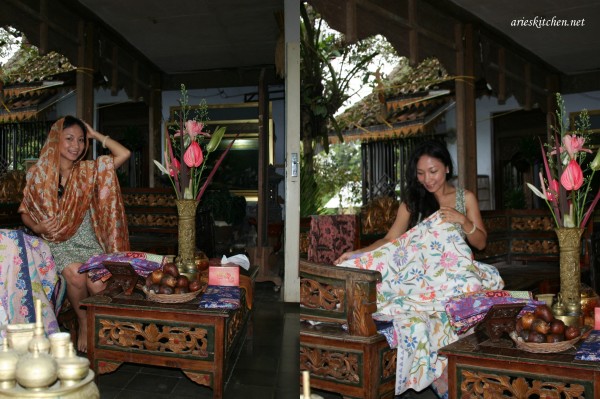 Surely I cannot decide which piece I want. as I said I like them all, can you blame me ? I don't think so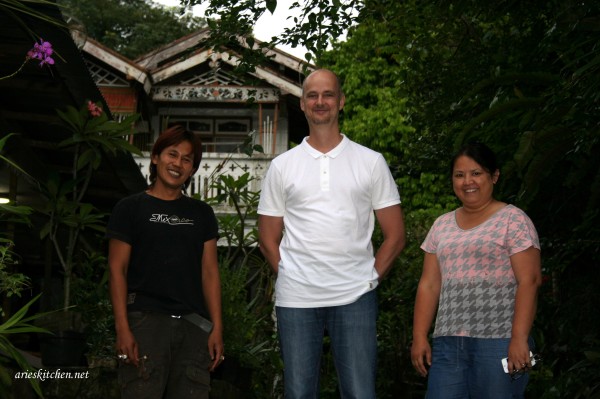 It was more than just a few hours we spent at mas Sigit's place. We would not have been moving anywhere if the sun stayed up there. Unfortunately it was eventually dinner time and we decided we had better go and leave mas Sigit in peace

 We didn't get a chance to see the gamelan/karawitan rehearsal at mas sigits as we ran out of time. Gamelan is Javanese traditional music with many instruments and players involve. Well, it's always next time

Another passion of mas Sigit is to promote local tourism. Not long ago Sendang village has been appointed by the local government as "Desa Wisata" meaning tourism village which mas Sigit is helping in planning and organising the youth to be involved and making it happen. Surely his batik is one of great starting reasons for people to visit Sendang. Not to mention that there are two beautiful waterfalls in the mountain you can visit. More details about the waterfalls will be at my next few post.
Thank you mas Sigit for the hospitality and helping to share Javanese culture with the world.
Fo you who are interested in seeing, feeling, wearing, experiencing mas Sigit's Batik or even to have a good chat with mas Sigit for further information about Javanese culture, you can inbox mas Sigit directly  on his Facebook page on https://www.facebook.com/sigitbatik.sendang?fref=ts
Matur suwun

*Javanese language for thank you*