Penne Pasta and Ham Recipe
Penne Pasta and Ham Recipe.
This dish is VERY easy to make and the other thing I like about this dish is I can cook it in bulk/many portion. So, when you have many visitor coming for dinner and stuck with food idea, this one might worth to try. Just add side dish like salad, rustic buns dip in virgin olive oil with splash of balsamic vinegar, is definitely work. Or…you can freeze this dish and the taste is still yummy. I found the simples way to cook this penne pasta and ham recipe without using so many pan and pots and other kitchen stuff as I can be very lazy clean up after. You know…one of those days

I hope you'll find this recipe easy like I do \0/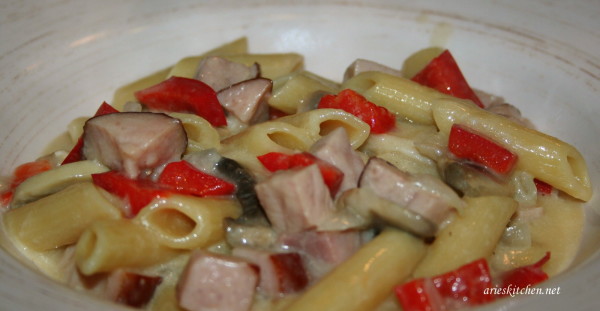 Penne Pasta and Ham Recipe

Ingredients:
500 gr penne pasta
500 gr ham, cut into dice
200 gr mushroom, sliced
1 big browm onion, minced
5 garlic clove, minced
1 big red capsicum, slice any size you like
½ tsp pepper
salt (optional)
2 cups of milk
6 cups of water
2 full tbs flour mix with little bit of water
3 tbs cooking oil
Cooking Instructions:
Sautee onion and garlic until fragrant.
Add ham, stir for about 3 minutes, add pepper stir for further 1 minute.
Add water, bring to boil.
Add penne pasta and milk make sure all covered in water/milk, stir occasionally until pasta nearly cooked.
Add mushroom, capsicum and flour and salt if needed, mix well. Stir occasionally until pasta cooked.
Bon appetite.