Javanese Braised Beef Recipe
Javanese Braised Beef Recipe.
Remember when I grew up, mum often bought me this dish from our famous local restaurant "Sate & Gule Bu Karto" in a local market. The place is always pack as it's only restaurant who sells Satay and Gule/Javanese Lamb Curry that time. The way they cook the satay is using coal and I can tell you that the taste is just delicious. The gule it self is always fresh, and so this "ungkep dish".  The "ungkep" / braised beef served with "serundeng" which is fried finely grated coconut and rice, of course :). Local people often cook this dish on special occasion like wedding or any other parties. It's kind of delicacy when I was little as not many people can afford meats. I hope you enjoy this Javanese braised beef recipe.
Untuk versi bahasa kunjungi Resep Ungkep Daging Sapi.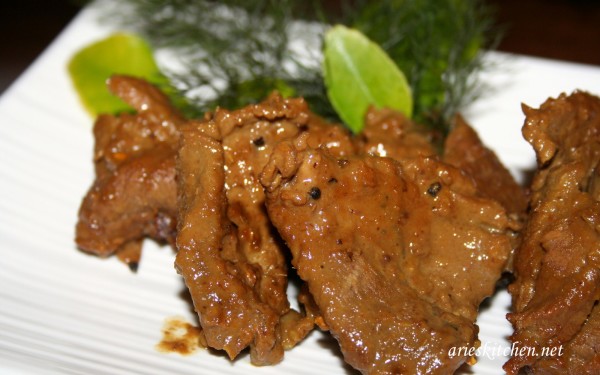 Javanese Braised Beef Recipe

Ingredients:
1.5 kg beef, slice ½ cm thick, 5cm wide
5 kafir lime leaf
5 bay leaf)
200ml coconut milk)
3 tbs sweet soy sauce)
2 lemon grass, bruised)
salt)
Paste Ingredients:
10 garlic)
1 big French onion/shallot)
3 cm ginger)
2 cm galangal)
1 tsp coriander powder)
1 tsp pepper)
1 tbs sugar)
½ tsp turmeric powder)
2 tbs cooking oil)
Cooking Instructions:
Make the paste using food processor/grounder, if you are using food processor, add 2 tbs water.
In a pan, add meat, kafir lime leaf, bay leaf, lemon grass and paste, mix together.
Put the lids on, turn on the stove. Cook for 30 minutes, stir occasionally, add water if needed.
When the meat soften, add coconut milk, sweet soy sauce, salt, cook until the sauce thick.
Serve with rice.