Roast Leg of Lamb Recipe.
In Indonesia we have this dish called "kambing guling/roll mutton", basically the way it cooked is by  rolling the mutton on top of fire. I saw some bbq appliance got that automatic setting (how easy is that?). And we serve with sweet soy sauce sambal and rice of course. It's very popular dish for parties like wedding in example. I can see that this dish easily serve in many ways, Indo ways or western ways like serve it with salad or roasted veggies, Any way you like (suka-suka anda) \0/
Untuk versi bahasa kunjungi Resep Paha Kambing Panngang.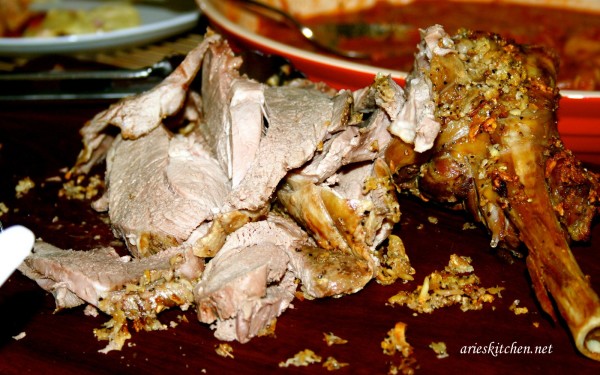 Roast Leg of Lamb Recipe

Ingredients:
1,5 kg leg of lamb
8 garlic clove, minced
1 tsp minced ginger
½ tsp crushed pepper
½ tsp salt
100 ml olive oil
Sambal Kecap/Sweet Soy Sauce Sambal:
5 chilli paddy, chopped
1 medium Frech onion/shallot, minced
1 tomato, seeded, chopped
6-8 tbs sweet soy sauce
1 tbs light soy sauce
1 tbs fresh lemon juice
Mix all sambal ingredients, set aside. Please note that you can adjust the amount of chilli you put in.
Cooking Instructions:
Pre-heat the oven 180 degrees celcius/160 degrees Celsius forced fan.
Mix the olive oil, garlic, ginger, pepper and salt - for marinate.
Using fork, poke holes all over the lamb.
Rub the lamb with marinate mix all over.
Put the lamb in the oven, cook for about 2 hrs for well done/ less if you'd like little bit red. Brush with left over marinated mix occasionally.
Take the lamb out of the oven, slice the way you like, serve with sweet soy sauce sambal and rice, normally we serve with other side dish- or serve with roasted veggies.