Rosemary Chicken with Tomato Recipe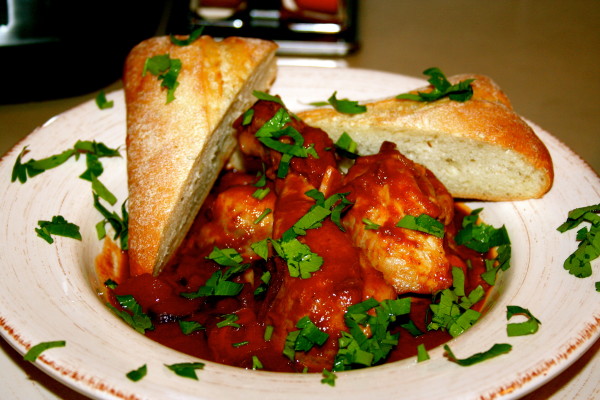 Rosemary Chicken with Tomato Recipe.
I found this rosemary chicken recipe from grocery shopping catalog. When I saw it, I can't resist but try and it's absolutely a kick ! Especially with red wine as one of the ingredient, but don't worry, if you don't like red wine you can replace it with water and the taste is just as good

I have tried and I serve it with rice. When I cook it with red wine, I prefer to serve it with rustic bread/roll, I can just clean my plate using the bread/roll…..sooooooo yummy !
This is how I make it (I have modified the original recipe to my liking).
Untuk versi bahasa kunjungi Resep Cara Membuat Ayam Masak Tomat.

Rosemary Chicken with Tomato Recipe

Ingredients:
8 chicken pieces, I use 4 skinless drumstick and 4 skinless thigh fillet
1 rosemary spring, finely chopped
1 red onion, finely sliced
3 garlic clove, sliced
5 anchovy, chopped
400 gr can chopped tomatoes
1 tsp cappers
75ml red wine or water
Salt and papper
Italian parsley, chopped for garnish
1 tbs olive oil
Cooking Instructions:
Heat 1tbs the oil, brown the chicken all over, set aside.
Add remaining oil into the pan, sautee red onion, garlic, anchovies and rosemary, cook for 5 minutes.
Add tomatoes, capers and red wine/water bring to boil.
Add chicken, cover, cook until chicken cooked.
Serve with rustic bread/roll if you cook with wine, or serve with green salad/rice if you cook without wine......whichever your preference all good :)
This is how it look when I cook without red wine.