Special Sunny Side Up Eggs Recipe
Any special occasion this coming weekend for the loved ones? My special sunny side up eggs recipe might help!
I made this a while ago on our wedding anniversary breakfast! Nothing is over board when it comes to celebrate our special moment in life. It doesn't have to be expensive but I like it to be different and made with love

Untuk versi bahasa kunjungi Resep Telur Mata Sapi Spesial.
This colourful breakfast always makes me feel warm and to be honest with you, there is some satisfied feeling when I serve this breakfast. The cleanliness, and the colour projected a happiness and cheerfulness in the morning. Definitely good stuff to start my day!
If you would like to add spinach too by the way. Just add them before the egg.
My friend asked what's with the sliced toasted bread? All starts from my husband's family tradition of eating half-cooked boiled egg where the egg yolk is still runny. They normally placed the eggs in egg cups. And then peel egg top and then dunk sliced of toast into the runny egg. So the question now, have you done that before?
For me, I prefer hard boiled egg or well cooked fried egg as I don't like raw one.

Special Sunny Side Up Eggs Recipe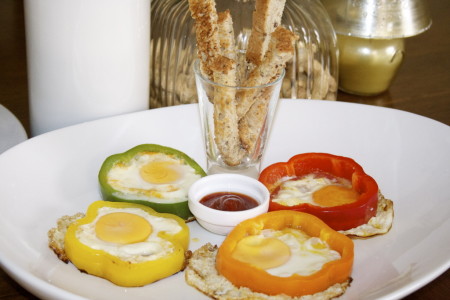 Ingredients:
4 eggs
1 tomato, thinly sliced
Capsicum (I use 4 different colours) cut horizontally to form a ring
Cooking oil (about 2 tablespoons)
Salt and pepper to taste
Cooking Instructions:
Heat the oil in a pan with a lid, place the sliced capsicum.
Add sliced tomato inside the capsicum.
Sprinkle salt and pepper on top.
Add the egg on top of tomatoes. And so on until all finished. Cover the pan.
(You can also fry one by one, depending on how big your frying pan is).
Cook until eggs are cooked to taste, I like the egg yolk well done while my husband love it runny and gooey.
Serve with sliced of toasted bread along with tomato sauce.

Please leave a comment if you like this recipe

Thanks!