Spicy and Sour Prawn Soup Recipe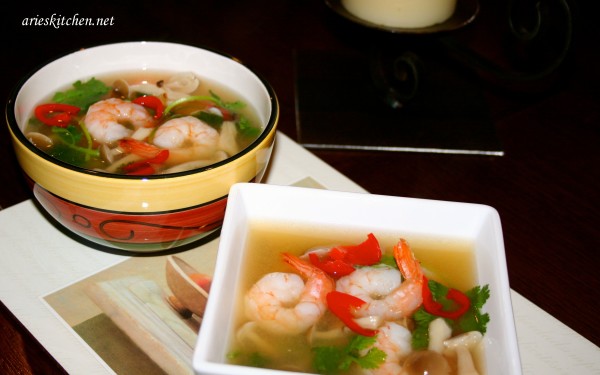 Spicy and Sour Prawn Soup Recipe.
Untuk versi bahasa kunjungi Resep Sup Udang Asam Pedas.
Silly weather !!! Hot and cold and hot, windy, cold *sigh*. But…..it won't stop me to make this quick and super easy soup !!! I did it less than 20 minutes, from preparing until ready to be served and the taste is sooooo good and fresh, even my husband reckon i can be cocky about it hehehehhehehe 😀

Spicy and Sour Prawn Soup Recipe

Ingredients:
18 medium prawn/shrimp, skin off
100 gr mushroom (I use hon-shimeji mushroom), clean the bottom part
3 cups of chicken stock
1 red big chilli, chopped
1 stalk lemon grass, bruised
2 big kafir lime leaf
3 tbs squeeze lime juice
1 tsp grated galangal
8 spring coriander leaf
2 tbs fish sauce
Cooking Instructions:
Place the chicken stock in a pot, bring to boil.
Add shrimp, mushroom, chilli, lemon grass, kafir lime leaf, lime juice, and galangal, cook for about 5 minutes.
Add fish sauce, taste. Turn off the heat.
Serve soup with fresh coriander leaf.