Spicy Duck Recipe Indonesian Style
Spicy Duck Recipe Indonesian Style.
Yes ! Spicy duck recipe Indonesian Style. This recipe came to me when I was inspired by mum's cooking called "Lodho Ayam" . That is chicken cooked in spices and coconut milk and then bbq'ed until they get crispy skin on the outside . The only difference is my mum normally uses chicken rather than duck.
Untuk versi bahasa kunjungi Resep Bebek Bakar Spesial.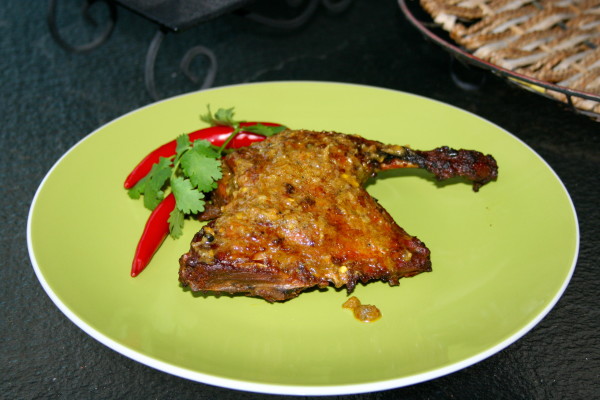 If you have traveled to Indonesia especially in Java island, this dish is everywhere. I love it ! I used to travel from Jakarta to my hometown, Tulungagung by car. It took me about 18 hours including having meal and resting. The traffic can be unpleasant at some area because of the condition of the road and traffic but guaranteed you won't be hungry as you will find food stalls that are open 24 hours selling hot food like this bbq duck or fried chicken with sambal, fish, etc everywhere. I can tell you it was so much fun.
By the way, do you know that there are so many different traditional foods in Indonesia ? Nearly each area has got their own signature dish. For example when i travel from Jakarta to my hometown, this is some of the different cuisine I can find along the way:
Some of traditional food from Jakarta are: Soto betawi, Karedok (similar with gado-gado/vegetables with peanut sauce), kerak telur/egg crust.
Some of traditional food from Cirebon are: Tahu Gejrot (Fried tofu served with spicy sauce),Empal Gentong (similar with gulai/curry) served with rice, and for the drink they have got Teh Poci (tea served in clay teapot and little clay cups).
Some of traditional food from Tegal are: Nasi Lengko (rice served with vegetables, poured with sweet soy sauce and peanut sauce).
Some of traditional food from Peklongan are: Megono Pekalongan (young jackfruit cooked in coconut sambal), Teuto Pekalongan (similar with soto/soup dish only different is this one using tauco as one of the ingredients.
Some of traditional food from Semarang are: Lumpia Semarang (spring rolls), Tahu Gimbal (tofu served with asian style omelette, rice cake, sliced raw cabbage, prawn fritters and then poured with coconut sauce.
Some of traditional food from Kediri are: Nasi Pecel Tumpang (steamed mixed vegetables served with rice and coconut sauce, Tahu Takwa (yellow tofu), Nasi Goreng Arang (fried rice cooked using charcoal instead of normal gas fire)
Some of traditional food from Tulungagung are: Ayam Lodho (chicken cooked with thick coconut sauce and spiced, very delicious), Punten Pecel (savoury rice cake served with coconut sauce and steamed veggies), Sompil or Lontong Sayur (rice cake served with vegetables cooked in coconut milk).
And many more

Spicy Duck Recipe Indonesian Style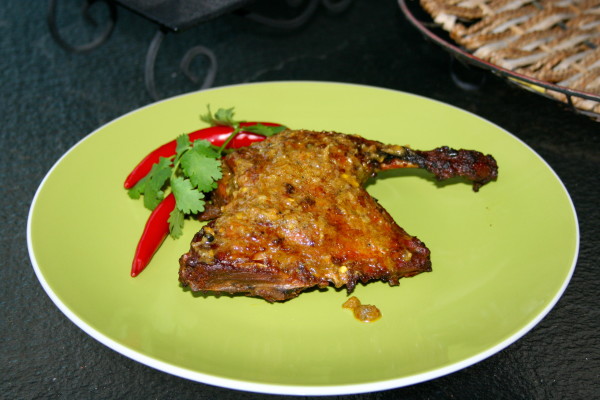 Recipe type:
Poultry - Duck
Ingredients:
1 fresh whole duck (ready to cook), cut into 4 pieces
1 cinnamon stick
3 cloves
5 kafir lime leaves
1 turmeric leaf (you can skip this ingredient if you don't have any)
3 salam leaves (you can replace with bay leaves)
3 tbsp cooking oil
200 ml thick coconut milk
200 ml water
Paste:
4 big red chilli
4 garlic cloves
4 Asian shallots ( or 2 big French onion )
1 big red tomato
2 cm ginger (1 tsp ginger powder)
2 cm galangal (1 tsp galangal paste or powder)
½ tbsp coriander powder
½ tsp pepper powder or whole
½ tsp turmeric powder (2 cm fresh one)
A pinch of salt
Cooking Instructions:
Heat the cooking oil, sauté the paste, cinnamon stick, cloves, kafir lime leaves, turmeric leaf and salam/bay leaf until beautifully fragrant.
Add the duck meat, make sure you stir well until the duck meat is covered in paste. At this point cook only until the duck meat is half cooked.
Add the coconut milk and water, turn the heat to medium small. Cook until the broth has thickened and the duck meat is tender.
Turn off the heat. Let the meat cool down.
Turn the oven/BBQ on, ~200 Degrees Celsius normal.
Place the cold or room temperature duck meat on the baking tray, brush some of the thick broth on top of the duck.
Put the duck in the oven or BBQ, for the oven cook for about 25 minutes or until little bit brown.
Serve BBQ duck with steamed rice. Normally we compliment this dish with crunchy raw vegetables like cabbage, cucumber, basil leaves and long beans.